Sticky toffee pudding is a rich, light textured cake, served warm with a decadent toffee sauce. It really is a special treat that isn't overly complicated to make.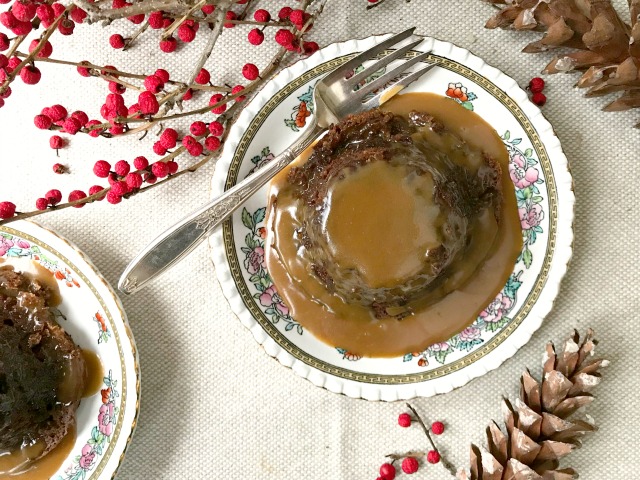 I received an email the other day from a woman I know who happened upon a copy of my recipe for sticky toffee pudding. She wanted me to know that her husband made it the very next day and hasn't stopped talking about it, especially the toffee sauce that goes with the recipe.
I had completely forgotten about the recipe. It's so strange how that can happen – you have a favourite recipe that you love to bake, you share it with friends, and then it somehow drops off your radar. Completely.
Rediscovering an old favourite recipe is such a gift, like finding something you didn't know you'd lost.  You never want to tire of old favourites so having them come in and out of your life in this way is just perfect.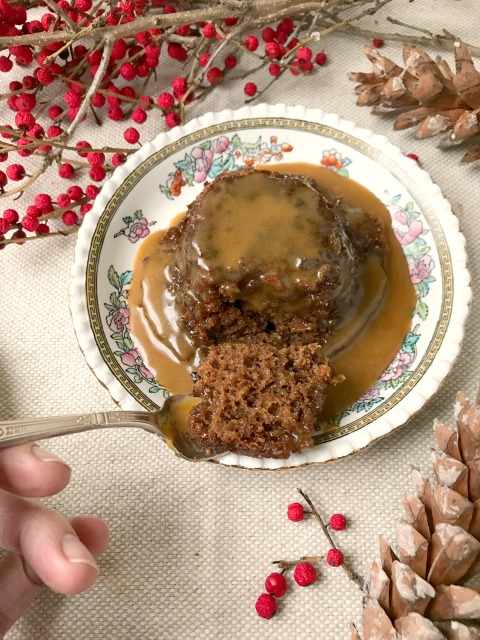 The sticky toffee pudding for those who prefer a cakey version
For those of you who are iffy about date pudding – this recipe just might convert you. The dates don't overpower the flavour or the texture.
Sticky toffee pudding is a rich, light textured cake, served warm with a decadent toffee sauce. It really is a special treat that isn't overly complicated to make.
I make this recipe in muffin tins but have also made it in mini bread pans. This recipe freezes well so having leftovers can be a good thing. The toffee sauce will last in the fridge for two weeks.
If you like your stick toffee pudding more pudding-like, as in an old fashioned date pudding, try this version from a former neighbour, Jean Ward:
Jean's Sticky Date Pudding
Sticky Toffee Pudding
Makes 14-16 muffin-sized puddings.
Ingredients:
8 ounces chopped pitted dried dates (15-20 pitted dates)
1½ cups water
⅓ cup butter
1 cup firmly packed brown sugar
2 tsp vanilla extract
2 extra large eggs, room temperature
5 Tbsp. molasses
1⅔ cups flour, spooned in
1½ tsp. baking powder
1 tsp. baking soda
Instructions: 
Preheat oven to 350 F and grease and flour muffin tins.
Add the dates and water to a small saucepan. Bring to a boil and simmer for two minutes. Remove from heat.
In a large bowl, cream butter brown sugar and vanilla. Add the eggs, one at a time, beating well after each addition. Add the molasses and beat well.
Sift together the flour and baking powder. Add the dry ingredients to the creamed mixture in three additions and mix until smooth.
Puree the date mixture in a food processor or blender. Stir in the baking soda then add to the batter.
Spoon batter into prepared tins and bake for 18 – 20 minutes until the center is just firm.
Let cool slightly before removing from tins. These have a delicate crumb so remove them carefully. (Don't worry if the bottoms look a little messy. Once they're coated in toffee sauce they'll look great.)
Serve warm with Toffee Sauce drizzled over. Or you can place them in an oven proof dish, pour over half of the sauce and warm at 350 for 10 minutes or so.
Caramel Sauce
Ingredients:
1/2 cup butter
1/2 cup lightly packed brown sugar
3 Tbsp. fancy molasses
1 cup plus 3 Tbsp. 35% cream (whipping cream)
1 tsp. pure vanilla
Instructions:
Over medium heat, melt the butter, brown sugar and molasses in a heavy pot. (The pot needs to be tall enough to allow for foaming.)
Stir to combine then slowly add the cream. Boil for 5 minutes.
Remove from the heat and stir in the vanilla.
Reheat gently.