Mom's rhubarb pie is sweet, a little tart, and almost creamy. The rhubarb mixture contains eggs so the filling has a bit of a sweet custard feel.
In Southern New Brunswick, along the shores of the Kennebecasis River, spring comes slowly. In May we optimistically till our gardens and wait for the tight-fisted leaves of the maples to stretch open. We wait for the freshet to subside and watch for new growth to poke through the dirt as proof that we made it through another winter.
And we watch the local markets for fiddleheads and rhubarb, the first edible signs of spring.
Drive by any old home (and by old, I mean at least 80 years old) and you'll see a shed-sized patch of rhubarb in some back corner of the lawn with leaves the size of umbrellas. As kids we'd march around the yard sometimes, fanning one another with them.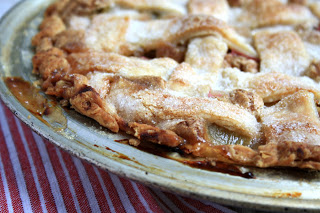 When I was growing up the rhubarb was piled like wood in our kitchen, waiting for mom to make jam, compote and pie.
I loved it all but my mom's pie is nothing like you have ever tasted: a little tart with an almost creamy texture and a hint of nutmeg.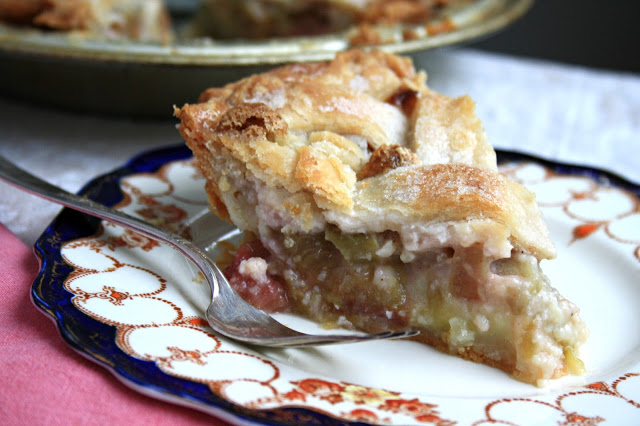 The first fruit pie of the season is cause to rejoice. (Although botanically speaking rhubarb is actually a vegetable). Mom would make these pies two at a time so there would often be enough left for a second little piece (I have six siblings).
When the strawberries arrived in late June she'd add them to the mix* and into summer we'd go, chasing each new fruit as it came into season, pie after pie after pie.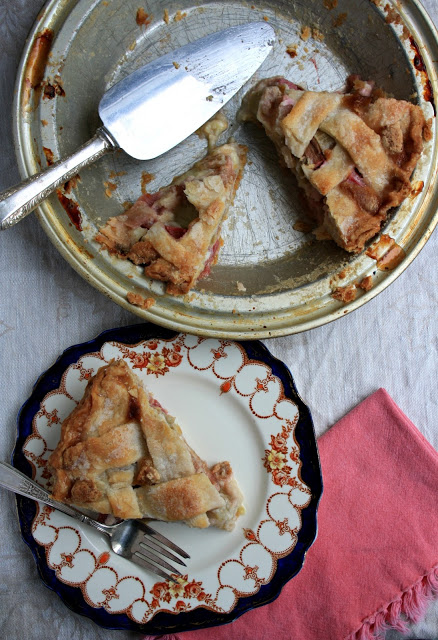 Mom's Rhubarb Pie | My first authentic Canadian food experience:
Course: Desserts
Difficulty: Medium
Total time
1
hour
10
minutes
Ingredients
1 1/2 cups sugar

¼ cup flour

¾ tsp. nutmeg

3 eggs, beaten

4 cups rhubarb (1" pieces)

2 Tbsp. butter

Pastry for one lattice-top pie or galette (free-form pie)
Directions
Combine the sugar, flour and nutmeg.
Add the beaten eggs then fold in the rhubarb.
Prepare pastry as usual.
Add filling to pie and dot rhubarb with the 2 Tbsp. of butter.
Lattice the top, brush with milk and sprinkle with sugar.
Bake at 400 F for about an hour.
Notes
*Strawberry rhubarb variation: 2 ½ cups rhubarb and 1 ½ cups sliced strawberries
The Canadian Food Experience Project began June 7 2013. As we (participants) share our collective stories across the vastness of our Canadian landscape through our regional food experiences, we hope to bring global clarity to our Canadian culinary identity through the cadence of our concerted Canadian voice. Please join us.