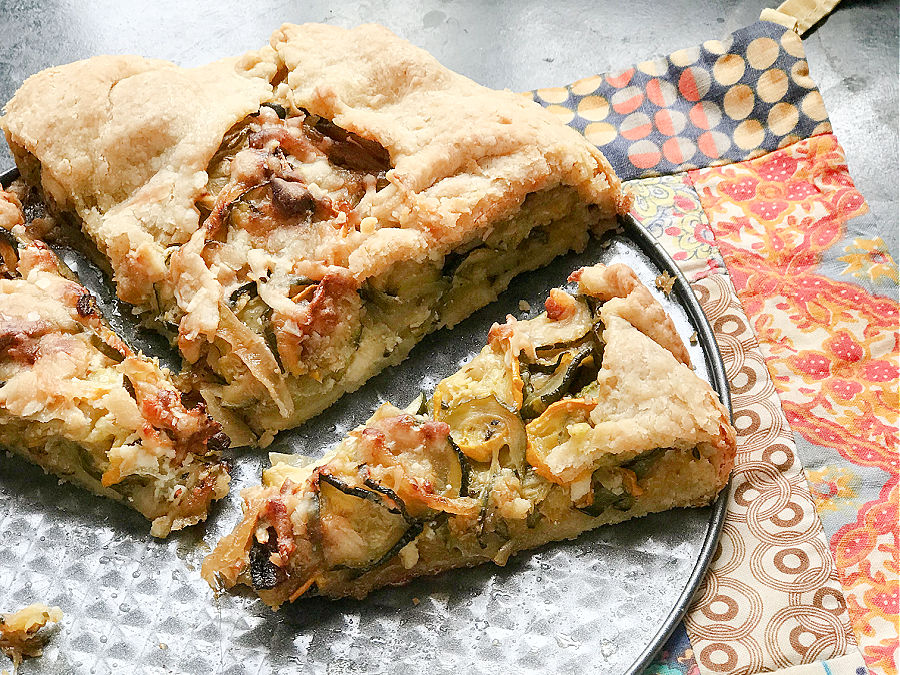 This zucchini galette recipe is an easy free-form tart. It's a delicious way to enjoy the little zucchini that are so abundant at the local markets through the summer. The pastry comes together quickly (made in the food processor).
How to make pastry in the food processor
My favourite way to make pastry is in the food processor. It's simple, takes just a couple of minutes and is the best way I know to keep lots of little flecks of cold butter and not overwork the dough. Those little pea-sized pieces of cold butter are what make the pastry lovely and flaky.
This easy food processor pastry recipe makes enough for four galettes. Luckily it halves well. It is worth it to make the full recipe because any pastry you don't use today can be frozen. Just pat portions into a disc, wrap well and freeze for up to three months.
If you do cut the recipe in half, remember half a batch only uses half a beaten egg which is perfect for this zucchini galette recipe. The leftover half of the beaten egg can be brushed on the galette before it goes in the oven.
Flaky Spelt Pastry
4 ¾ cups flour (can use half spelt flour)
¾ tsp. salt
1 ½ tsp. baking powder
1 lb butter, cold
½ cup cold milk
½ cup cold water
1 large egg, beaten
Pastry Instructions:
Toss dry ingredients into a food processor and whirl for a second.
Cut the cold butter into chunks and add to the food processor. Pulse on and off until the butter is pea sized.
In a small bowl whisk the milk, water and egg. Add to the flour mixture and pulse until the dough is just starting to come together.
Remove from processor and pat into a disc. Cut in half, wrap and refrigerate for at least an hour.
Baking instructions: This recipe makes enough for four galettes. When making a galette, roll your pastry portion to 1/4″ thick. Place on prepared sheet, fill with fruit or veg (depending on your recipe) and bake at 375 F (preheat oven).
No need to be intimidated by the thought of making pie from scratch. This versatile pastry recipe goes to show that if you have five minutes to spare you can make your own pastry.
With extra pastry on hand you're halfway to making another savoury pastry, like my Swiss chard galette. Or experiment with fruit galettes. (Once you have the galette process down pat, and extra pastry on hand, you can churn out fruit galettes all the time. Start with this Apple Galette recipe.)
How to make zucchini more interesting
This zucchini galette is loaded with flavour, thanks to the garlic, onion, herbs and feta. Feel free to experiment with different herbs and spices. The Portuguese piripiri spice blend is delicious in this recipe.
Next time you get together with friends, surprise them with a homemade galette. It makes a delicious light meal or nibble with drinks.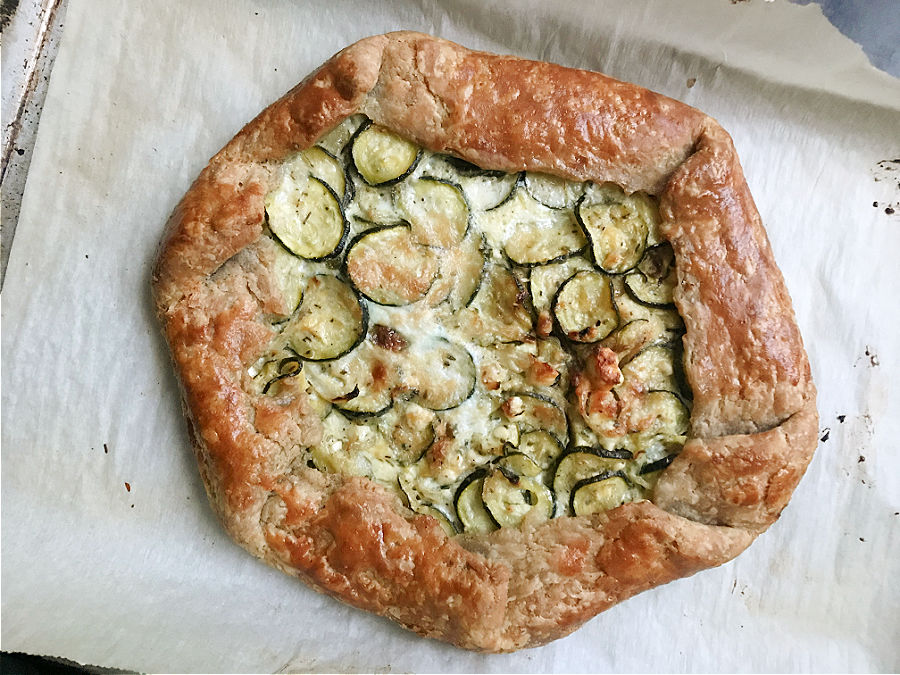 Zucchini Galette with Flaky Spelt Pastry
Difficulty: Easy
Total time
1
hour
15
minutes
Zucchini galette makes a great lunch or light supper with a salad on the side. The food processor pastry is easy.
Ingredients
2 ½ -3 cups sliced zucchini

1 small onion, thinly sliced (or half an onion)

1 clove garlic, pressed or minced

½ Tbsp. olive oil

½ cup feta

¼ cup parmesan

1 tsp. dried herbs (oregano, fines herbes, herbes de Provence, or Italian blend)

1 egg, beaten

Pepper to taste
Directions
Preheat oven to 375 F
Spread sliced zucchini, sliced onion and garlic on a parchment lined baking sheet. Sprinkle with olive oil and toss. Place in the oven while you prepare the pastry.
On a lightly floured surface, roll one pastry disc into a circle 1/8" thick.
Remove zucchini from oven, scrape into a bowl and toss with feta, parmesan, herbs and beaten egg.
Place rolled pastry in baking sheet, spoon zucchini mixture onto pastry, and spread to within about 3" of the edge (no closer).
Fold the pastry edges over the zucchini, overlapping the pastry as required.
Brush pastry edges with leftover beaten egg.
Bake for 45 minutes or until golden.
Let cool slightly before slicing.