A savoury Swiss chard galette (pie) filled with healthy greens, feta, and nuts tossed with beaten eggs. It's moist and not too dense. Recipe leaves room for variations.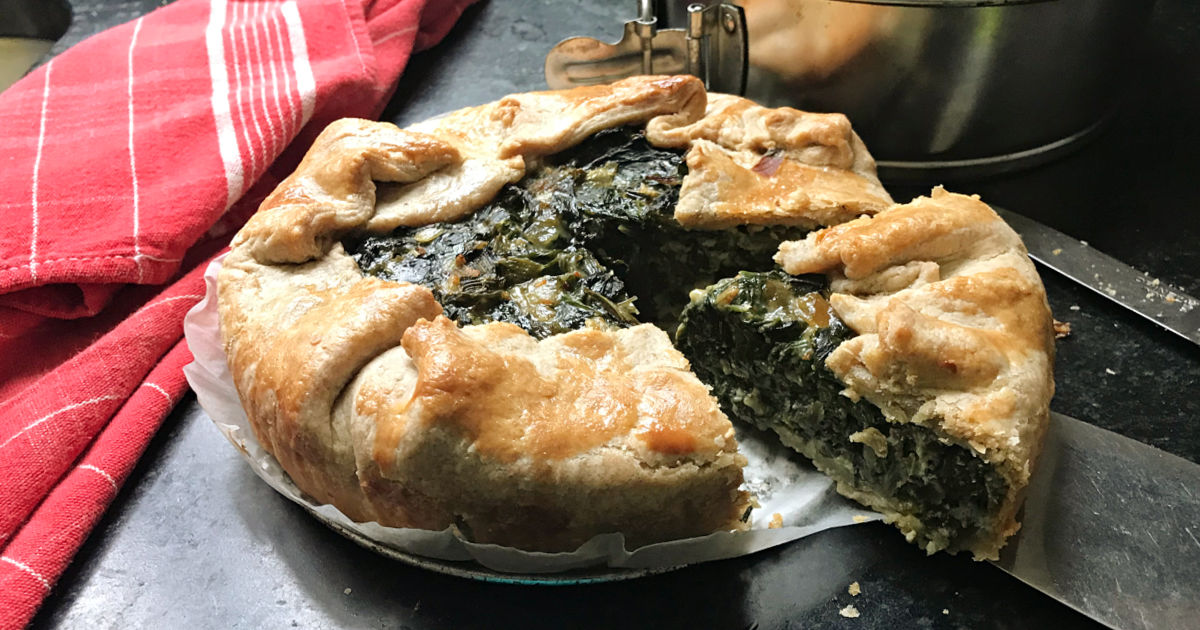 When you have a mound of greens in the fridge, you need some ways to use them up. My dad loved steamed greens with butter but they're always too soppy for my liking. I prefer Swiss chard baked into a savoury galette. 
I spent months trying to create the perfect Swiss chard galette and finally came up with a recipe so delicious that I could eat it for breakfast, lunch and supper (all on the same day).
This was my goal: I wanted a mouthful of the flavour of greens, without a wet texture. I didn't want it eggy like quiche and it couldn't contain cream. Plus, I didn't want a rich pastry to compete with the filling. I finally ended up with a lovely 1-2 inch filling that has a mound of greens, a couple of eggs, a taste of feta, currants, pine nuts, and onion, tucked into a very thin pastry.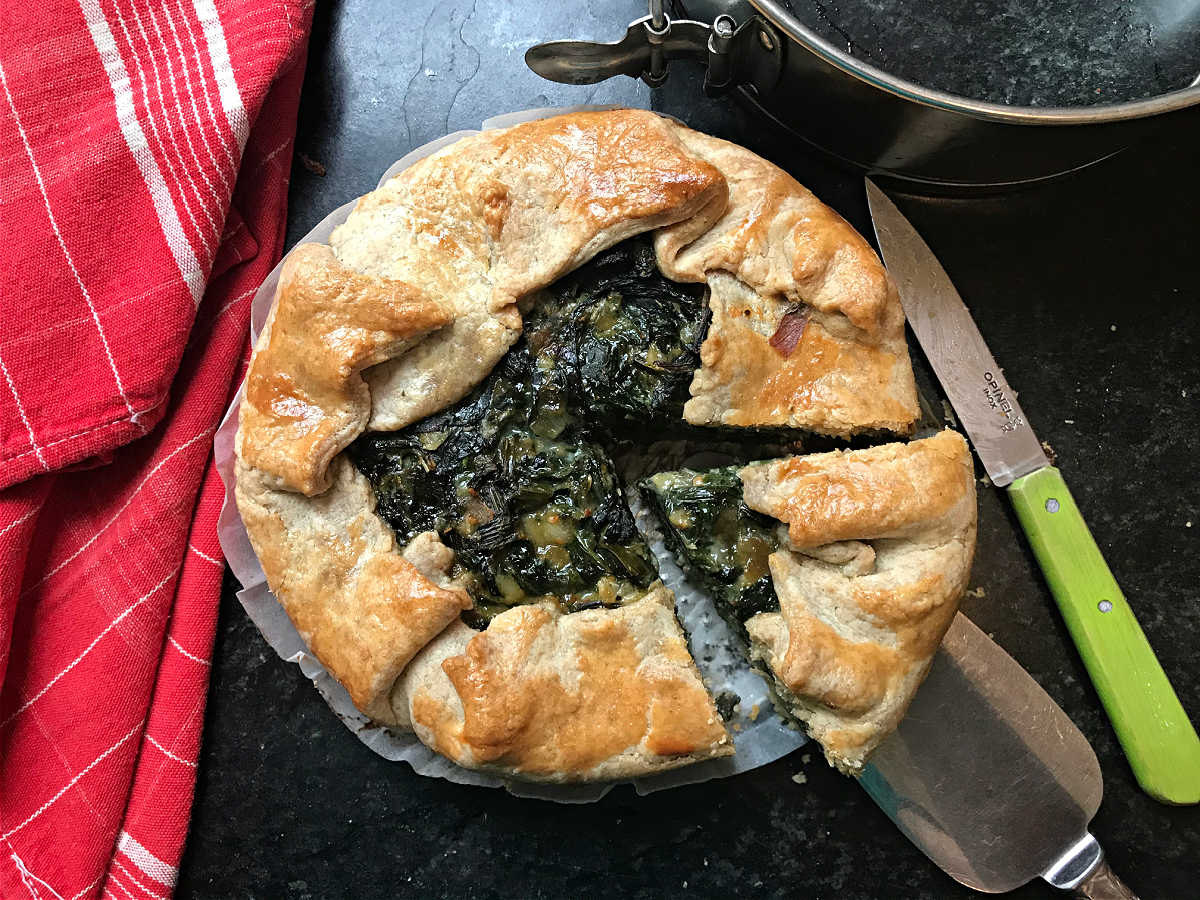 I originally used an olive oil pastry for this recipe but found it too bread-like, even when it was rolled very thin. I now use my all-purpose butter pastry recipe. If you use this recipe for your galette, you'll only need half of it. The other half can go in the freezer.
If you don't want to follow the link above, here's the recipe:
All-purpose Butter Pastry (aka Flaky Whole Grain Pastry)
2 1/2 cups flour (can use half white four and half whole grain)
2 tsp. sugar
¾ t salt
1 cup cold butter
½ cup ice water
Add dry ingredients & cubed butter to food processor. Process just until it resembles coarse meal.
Sprinkle in ice water and process until mixture starts to clump together. (Be careful not to over mix.)
Scrape onto the counter and gather into a call.
Pat into a disk & chill for at least 30 min.
Galette Variations: Sometimes I'll omit the feta, currants and pine nuts and add 1/3 cup grated parmesan instead, along with paprika, cayenne and dried thyme or oregano. This recipe is good with spinach too. Occasionally I'll add a little arugula to the mix. 
Tips:
If you want to pile your greens nice and high, assemble the galette in a springform pan. (In these photos I used an 8″ springform pan.)
Store bought puff pastry is a good option if you don't have time to make homemade pastry. (Remember, homemade pastry freezes well so you can always have a batch in the freezer.) 
Swiss Chard Galette with Feta and Pine Nuts
Course: Vegetables, Vegetarian
Difficulty: Medium
Ingredients
¼ cup currants

1 onion, diced

2 cloves of garlic, minced

1 large bunch of Swiss chard or spinach

½ cup feta

2 Tbsp. pine nuts (or chopped almonds or walnuts)

Sea salt u0026 pepper

2 eggs, beaten (1 T reserved)

Pastry (homemade) or store bought puff pastry
Directions
To prepare the filling:
Remove stems from greens. Chop the stems like celery. Roughly chop the leaves.
In a large pan over medium heat saute the onion in olive oil until soft.
Add garlic and chopped stems and cook 2-3 minutes.
Add the chopped greens and toss well. Cook until soft (about 5 minutes).
Press out excess moisture with the back of a wooden spoon. Season with salt and pepper. Scrape mixture into a bowl, add currants and nuts. Add feta and eggs just before your spoon it onto the prepared dough.
To assemble the galette:
On a lightly-floured surface roll dough into a rough circle about ¼" thick. Transfer to a parchment-lined baking sheet (sided sheet is best, in case the galette leaks).
Pile filling onto the pastry, leaving a 2-3 inch border. Gently fold the border in over the filling, overlapping the dough where needed.
Brush the top of the pastry with the reserved egg.
Bake for about 45 minutes to an hour, until pastry looks golden and the filling seems firm. Cover loosely with foil the last 15 min or so if the pastry is browning too much. Let cool 10 min before cutting.
Serve warm or room temperature.