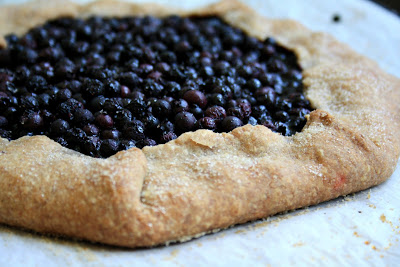 Blueberry galette with Red Fife pastry
This month's topic for the Canadian Food Experience Project is to introduce our readers to a local food hero in each blogger's particular region.
I'm sure we all have a list as long as our arm of people who have done much to advance local food growers and producers in our regions. I know I do.
That said, it was an easy choice for me to hone in on the staff at Speerville Flour Mill and the Mill's current general manager, Todd Grant.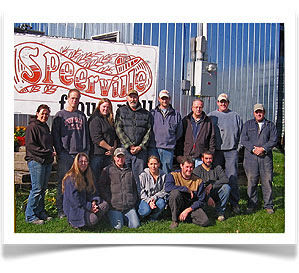 The staff and Speerville Flour Mill
Speerville Flour Mill is a New Brunswick gristmill that grinds Maritime-grown grains into high quality, stone ground flours and a variety of other grain products. They're the farm-to-fork connection for Maritime farmers who would otherwise have no reason to grow milling-quality grains and they provide Maritimers with something few Canadians have access to – locally-grown and stone-milled flours. A luxury for lovers of true artisan breads.
We can also thank Speerville Flour Mill for the revival of the heritage wheat, Red Fife. Considered the mother of most modern wheat grown in Canada today, Red Fife was virtually extinct until Speerville and some other producers across the country began an initiative to restore the variety.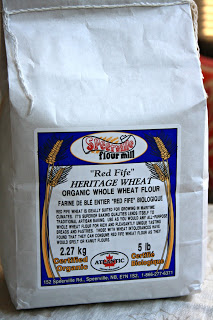 A bit about stone ground flour:
This is a fact: Commercial white flour is the "Wonder Bread" of the flour world. It is made almost entirely on steel roller mills that extract 72% of the wheat kernel, sifting out much of the fibre, flavour and nutrition (including the bran & wheat germ.) And it includes additives.
Commercial Whole Wheat Flour is hardly any better, unless it is labeled 100% whole wheat it is simply steel-ground white flour with part of the bran added back in. It never contains wheat germ.
Stone ground grains, on the other hand, retain the full nutrition of the whole grain. Stone-ground whole wheat flour is exactly that – the entire wheat kernel, ground into flour. Stone ground whole white flour (sometimes called white whole wheat) contains 85% of the grain, including the tasty and nutritious germ.
Stone-ground flour is high in protein, fibre and other nutrients and it has a flavour that can't be matched.
Sure it's slightly heavier than conventional flour but it is my flour of choice for all of my baking – from seven-egg hazelnut cakes to biscuits, pastry, breads and muffins.
Pastry made with Ref Fife flour is a particular favourite. Paired with fresh, local blueberries in a galette is a wholesome taste of summer.
I have a particular fondness for Speerville Flour mill. Their commitment to the local food movement is admirable and their whole-hearted belief in the philosophy of eating local is a huge inspiration. That's what led me to found a whole food buying group through the Mill five years ago. It's a volunteer initiative that makes it easier for those in search of authentic ingredients to find them close to home.
The Canadian Food Experience Project was started by Edmonton-based food blogger Valerie Lugonja, She has called on food bloggers from across the country to share our regional food experiences with a goal to bring global clarity to our Canadian culinary identity.
Red Fife Blueberry Galette
Course: Desserts
A summer fruit galette made with whole grain pastry.
Ingredients
Pastry:

2 1/2 cups flour (half white four and half whole grain)

2 tsp. sugar

¾ t salt

1 cup cold butter

½ cup ice water

Filling:

About 5 cups of blueberries (tossed with sugar, if required)

Squeeze of lemon juice

4 tbsp ground almonds or walnuts

3 tbsp flour

3 tbsp sugar
Directions
To make the pastry:
Add dry ingredients u0026 cubed butter to food processor. Process just until it resembles coarse meal.
Sprinkle in ice water and process until mixture starts to hold together. (Be careful not to over mix.)
Pat into a disk u0026 chill for at least 30 min.
To assemble the pie:
Roll out pastry and place on a parchment paper-lined baking sheet.
Combine almonds, flour and sugar. Spread evenly over pastry, leaving 3 inch border all around.
Toss blueberries with lemon juice and arrange over the mixture.
Fold pastry border in over filling. Sprinkle tablespoon of sugar over the pastry border.
Bake at 375 F for 45 minutes to an hour. (Cover loosely with foil for the last 30 minutes if it looks like the pastry is getting too brown.)