Healthy chocolate tahini pudding is quick to make and so versatile. Serve it with fruit and crispy cookies for a wholesome dessert. Enjoy it at breakfast with fruit and granola.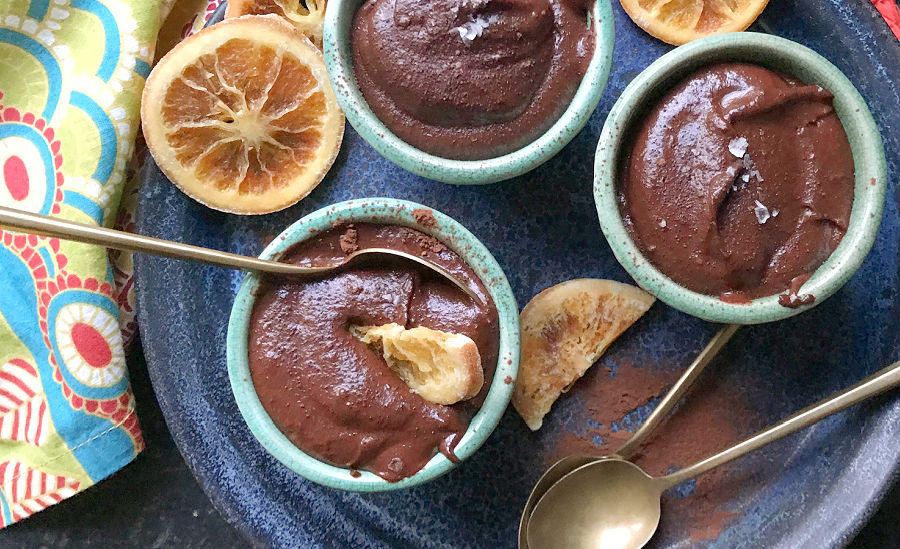 My sister introduced me to the idea of sweet potato pudding. She served a variation of this recipe at a dinner party one evening and I was smitten. I couldn't figure out what gave the pudding its substance and texture.
Tahini chocolate pudding is a good option when you want a little something sweet after dinner but don't want too much sweet. But just so you know, this pudding is very rich so a little goes a long way. Try serving it with fruit and some crispy cookies so you get a nice mix of textures. It works as breakfast food too, alongside a little granola and some fruit.
Why this recipe is quick and easy
I have made this recipe using an immersion blender but the quickest and easiest way to make it is in the food processor. I like to steam a pile of sweet potatoes at once, blend them and freeze the puree in half-cup portions. You'll need about two cups of puree for this recipe. (Use extra puree to make my recipe for Sweet Potato Scones.)
I learned the hard way how to size a food processor for my kitchen. If you want to prep a big batch of sweet potato puree you'll want a mid-sized processor (10 cup capacity) or larger. (I use an 11-cup Cuisinart processor. It's also a good size for making food processor pastry and isn't too heavy.)
If you're substituting dates for the maple syrup in the recipe you'll want to use a processor or you'll end up with little lumps of date. (That's what happened to me when I made that variation using an immersion blender.)
Substitution ideas for your chocolate tahini pudding
I have made this recipe with canned pumpkin and it isn't great. Canned pumpkin is delicious in many things but the flavour didn't work with chocolate and tahini.
If you want to make this recipe sugar free, substitute 3-4 dates for the maple syrup and honey. Soak the dates in a little boiling water for 10 minutes before adding so they blend in well.
You can use all maple syrup or honey in the recipe. Remember that honey is sweeter than maple syrup.
Try natural peanut putter or almond butter in place of tahini.
Chocolate Tahini Pudding with Sweet Potato
Course: Dessert
Difficulty: Easy
This easy chocolate tahini pudding recipe has a deep chocolate flavour and gets added richness from tahini. Refined sugar free. Recipe serves four generously.
Ingredients
2 medium sweet potatoes

1/2 cup cocoa powder

1/3 cup milk (can be non-dairy)

3 Tbsp. tahini

1/4 cup pure maple syrup

2 Tbsp. honey or molasses

1/4 tsp. salt

1 tsp. vanilla
Directions
Peel the sweet potatoes, chop into chunks and steam until soft
Place the steamed sweet potato in the bowl of a food processor, add remaining ingredients and whirl until well combined and creamy.
Portion into bowls, sprinkle with a little cocoa powder or flaky salt and refrigerate.
Notes
An immersion blender works just fine if you don't have a food processor