These two simple cabbage recipes – braised red cabbage and buttery sauteed Savoy cabbage – add vegetable variety to your dinner plate.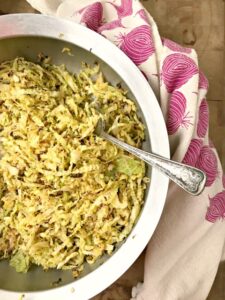 So many reasons to love cabbage
I think that cabbage is the most underrated vegetable. It gets dismissed, or forgotten, or ignored. People are convinced that they don't like it which is a shame considering cabbage is versatile, healthy, inexpensive, and locally grown.
Cabbage is a staple in our kitchen and I'm rarely without some variety of cabbage in the fridge. This time of year I like to eat it hot so either braise it with diced apple and a little vinegar or simply sauté slivered cabbage in butter, season it with salt and pepper and serve it alongside chicken, fish or bean-based vegetarian stews.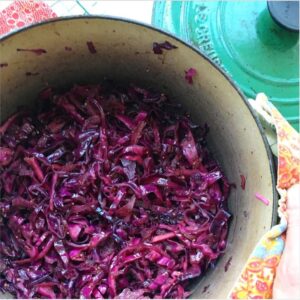 Everyone has vegetables they disliked as a child. (One of my brothers used to hide his peas in the drawer of the dining table and my son was known to tuck broccoli in a nook under the dining table. My daughter buried lentils in a plant beside her seat at the table.) But then we grow up and our palate develops and the taste and texture of vegetables changes too. That's why you shouldn't hang onto decades old dislikes without a little test now and again.
If you want to start the year eating more vegetables (4-5 servings a day is recommended) cabbage is an easy one to add to your plate. Here are two simple recipes to try.
Two Simple Cabbage Recipes:
Braised Red Cabbage
Ingredients
1

Tbsp

olive oil

1/2

onion

thinly sliced

1

apple

peeled, cored & diced

1

small head of red cabbage

quartered, cored and thinly sliced

3

Tbsp

apple cider vinegar

3

Tbsp

red wine or broth

1/2

Tbsp

molasses

salt & pepper

to taste
Instructions
In a heavy bottomed pot over medium heat, saute the onion until soft.

Add the apple, cabbage, vinegar, wine and molasses.

Reduce heat to low, toss cabbage and cook (covered) until tender, stirring from time to time.

Season with salt & pepper
Sauteed Savoy Cabbage
Cabbage, butter, salt & pepper - simple and delicious
Ingredients
1 Tbsp

olive oil

2-4

Tbsp

water or broth

1

small head

Savoy cabbage,

quartered, cored & thinly sliced

salt & pepper to taste
Instructions
In a large heavy bottomed pot, melt 1 Tbsp. butter in the oil over medium heat. 

Add the cabbage and toss to coat. 

Cook until tender, tossing from time to time.  

Add broth or water a tablespoon at a time through the cooking process.  T

oss with final tablespoon of butter and season with salt and pepper. Serve hot.
More Cabbage Recipes:
Shaved Cabbage with Creamy Apple Vinaigrette
Rumpledethumps: mashed potatoes with cabbage and cheddar