Crunchy carrot-cabbage slaw with maple-mustard vinaigrette is an all-season salad that goes well with all sorts of dishes and looks lovely on a plate.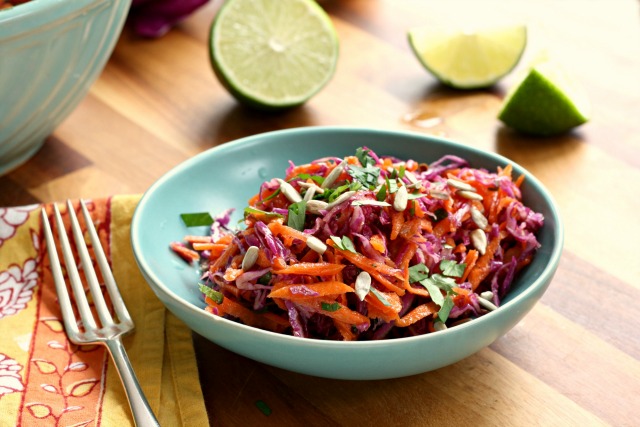 One of my favourite all-season salads is a flavourful crunchy carrot-cabbage slaw. It's quick to mix up, is perfectly adaptable to all sorts of main dish meals and looks lovely on a plate with its cheery colours of orange and purple.
Some people find that raw cabbage can be too crunchy but I have a solution for that. I shave my cabbage with a flat cheese slicer so it is paper thin. Another option is to use a softer Savoy cabbage in this recipe in place of the red cabbage.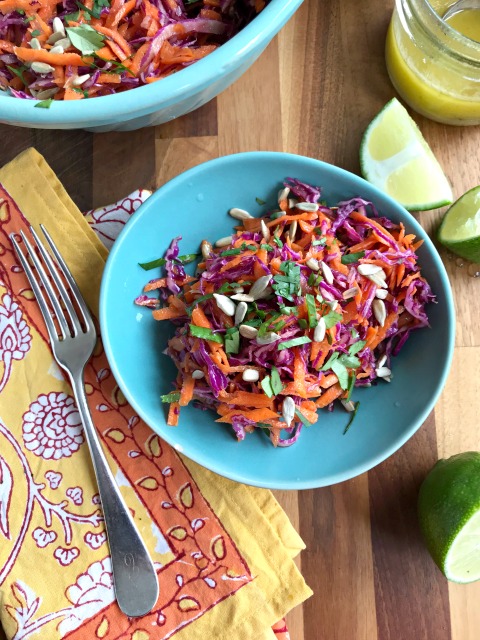 You can vary the mix of vegetables in this slaw, depending on your preferences and add toppings to play with the texture. Toasted sunflower seeds are good, cooked lentils or chick peas add texture and nutrition and green apple cut into matchsticks makes this slaw a little tangier. Dried currants or Thompson raisins are another good addition. A thinly sliced red pepper is a good addition, or slaw can be tossed with baby spinach. Once you have the gist of it you can come up with your own preferred variations.
The dressing is adaptable too. Try it made with half walnut oil or hazelnut oil.
Carrot cabbage slaw can last a few days in the fridge and the vegetables soften as they marinate in the dressing, so if you find that freshly made slaw is too crunchy just leave it in the fridge for a day.
The vinaigrette that use with this recipe is one I have made for years. You can always find a bottle of it in my fridge.
Carrot Cabbage Slaw with Maple Mustard Vinaigrette
Ingredients:
3 cups grated carrots
3 cups shaved red cabbage
½ cup toasted sunflower seeds
¼ cup chopped parsley or cilantro
Instructions:
Toss all ingredients in a bowl.
Toss with dressing (recipe below)
Before serving, squeeze half a lemon or lime over the slaw.
Maple Mustard Vinaigrette
3 Tbsp. cider vinegar
1tsp. Dijon mustard
1 ½ Tbsp. maple syrup
1/3 cup good olive oil
Salt & pepper to taste
Put all ingredients, except oil, in a mason jar and give it a good shake.
Make sure the Dijon is well incorporated then add the oil and give it another shake. (Or you can stir it together in a bowl, in the same sequence.)