Double Ginger Caramel No-Churn Ice Cream: An easy no-churn recipe that combines the lovely flavours of powdered and candied ginger with a rich caramel sauce.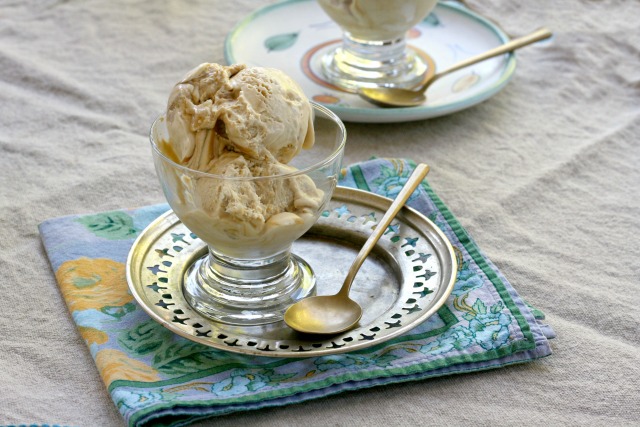 Double Ginger Caramel No-Churn Ice Cream is the stuff of dreams
When I was very little I remember listening for the ice cream truck. I don't recall ever seeing an ice cream truck in my neighbourhood but my older siblings would say they heard its bell and go running off when I was still too young to leave the yard, or hope to keep up with them.
I have no idea if they were teasing me or if there really was an ice cream truck in the neighbourhood from time to time. In any case, when I was very young my vision of Candy Land definitely included an ice cream truck.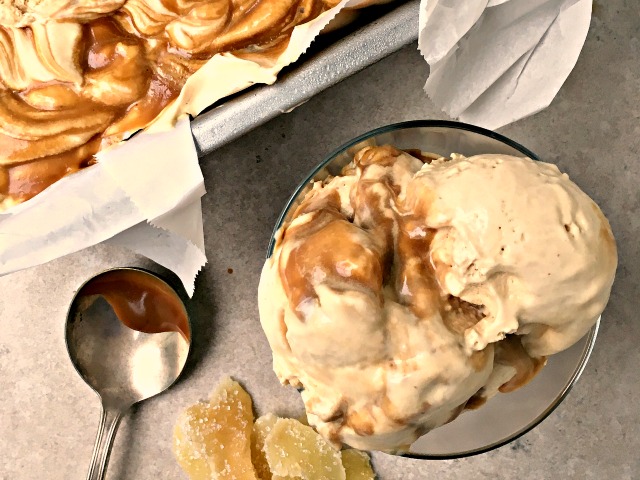 It was an exciting day when mom bought an ice cream maker. Authentic homemade ice cream was almost impossible to find back then so it seemed exotic that mom could make ice cream in her own kitchen.
I have yet to acquire an ice cream maker but I discovered "no-churn" ice cream, which is a simpler version of homemade ice cream and almost as good.  
All you need for no-churn ice cream is a can of sweetened condensed milk, whipping cream and your favourite add-ins. And you need the patience to wait six hours for it to set in the freezer.
It was my mom's idea to combine ginger and caramel in this simple no-churn ice cream recipe. Ginger and caramel are two of her favourite flavours and favourites of mine too.
Make your own caramel sauce using this recipe! It's a family favourite in our house. 
Double Ginger Caramel No-Churn Ice Cream
Course: Desserts
Difficulty: Easy
Ingredients
1 can (300 ml) sweetened condensed milk

2 Tbsp. molasses, honey or maple syrup

2 cups heavy cream (35%)

½ tsp. powdered ginger

¼ cup chopped candied ginger

½ cup caramel sauce
Directions
Line a 9×5 inch loaf pan with parchment paper.
In a small bowl, whisk together the sweetened condensed milk and the molasses.
In a large bowl whip the heavy cream until stiff peaks form. Drizzle in the condensed milk mixture and powdered ginger and continue to whip until the mixture is thick.
Fold in the candied ginger then drizzle over most of the caramel sauce. Stir only once or twice then scrape mixture into the prepared pan.  Even out the top and drizzle remaining caramel sauce over top. Draw a butter knife through the mixture in a figure-eight pattern to incorporate the final drizzle of sauce.
Cover and freeze for at least 6 hours.