Vegetarian zucchini "meat" balls can be a main dish meal or vegetable side dish.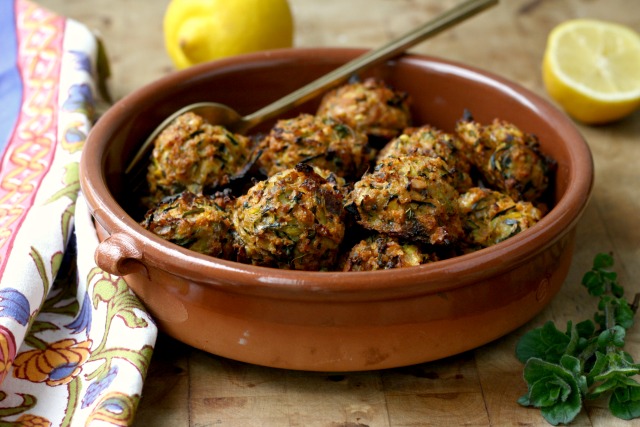 Zucchini meat balls – faux meatballs with great versatility
One time my sister went to a potluck to which almost everyone had brought meatballs. They were likely all variations of sweet and sour meatballs, which are always good, but are less good if that's all there is to eat. 
Then a few years ago I hosted a summer potluck and everyone brought a salad. There was a great variety of salads but you can only get through so much salad in an evening.
Think of this recipe as a combination of the two potlucks – a faux meatball that can serve as a vegetable side dish or the star of your main dish meal.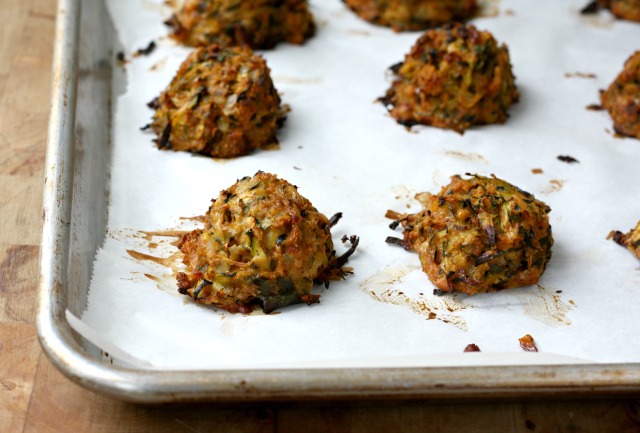 Zucchini "meat" balls have a great texture and get loads of flavour from Parmesan and fresh herbs.
You can use this recipe a basic guide and then make the recipe your own by experimenting with your favourite spice blends and herbs. Italian blends are lovely with this recipe but so are Moroccan.
To serve zucchini "meat" balls as a main dish you can toss them with a light tomato sauce or with my
Oven Baked Ratatouille
. As a vegetable side dish they can go with anything. This recipe makes about two dozen balls.
Vegetarian Zucchini "Meat" Balls
Course: Vegetables, Main Course
Difficulty: Medium
Vegetarian zucchini "meat" balls can be a main dish meal or vegetable side dish. 
Ingredients
4 medium zucchini, shredded (5-6 cups)

½ medium onion, minced

3 cloves garlic, minced

½ tsp. paprika

½ tsp. salt

1/8 tsp. pepper

1 cup panko or very dry breadcrumbs (or crushed soda crackers)

½ cup grated parmesan

1 tsp. Italian seasoning or oregano

1 tsp. chili powder

1 egg, beaten

Juice of ½ a lemon

¼ cup fresh herbs (chives, oregano, parsley…)
Directions
In a large pan over medium heat saute the zucchini, onion and garlic until water starts to evaporate, about 10 minutes. Remove to a strainer and let drain for 5 minutes.
Toss mixture in a large bowl with remaining ingredients and stir until just combined.
Preheat oven to 375 F and line cookie sheets with parchment paper.
Using a tablespoon measure or a medium cookie scoop, form balls and place them on the prepared sheets, about half an inch apart.
Bake 25-30 minutes until a little golden.
Serve immediately or reheat in a 350 F oven.
Zucchini fritters, and fritters made with other vegetables, are another crispy option. Try this trio of vegetable fritter recipes.