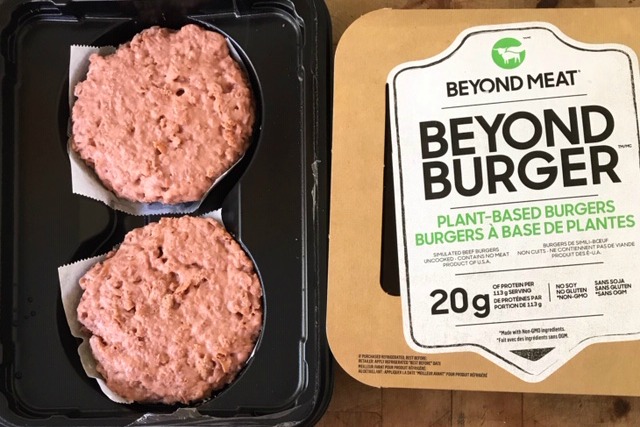 Have you tried the Beyond Burger, a meat alternative that was created to mimic an actual beef hamburger?
It's a plant-based burger made with pea protein for substance and beet juice to mimic the blood in a raw hamburger. The burgers are sold raw, fresh or frozen, and stocked in the meat department at local grocery stores and markets.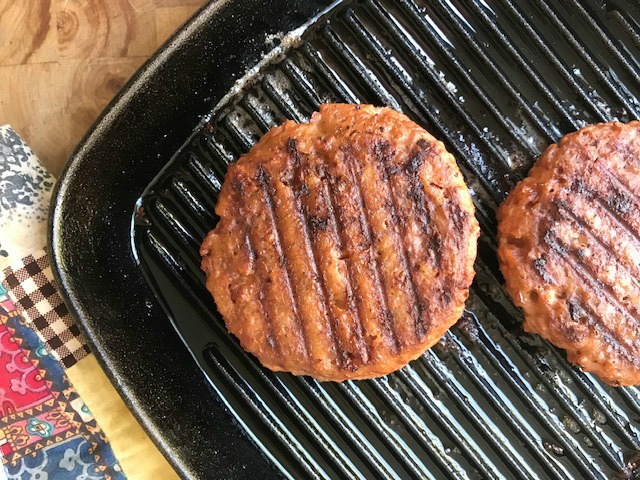 Considering beef has the highest carbon footprint of all protein, and beans and legumes have the lowest, there is a great environmental benefit to replacing beef with plant protein. Products like Beyond Burger were created to help make it easier for meat eaters to make the switch.
Beyond Meat Burger Review:
My family and I tried Beyond Burgers a few weeks ago and this is what we thought:
Flavour and texture: We tested them plain and loaded with typical toppings and they were good both ways. Eaten plain they had a medium flavour that was hard to define. Tasty but not delicious.
I enjoyed the texture. They were a little meaty, not tough and not too chewy and they were very moist. When compared to other veggie burgers I have tried – both processed and homemade – the Beyond Burger is my preferred. My preference comes down to texture. I'm happy to eat regular veggie burgers but often find them a little tough or dry or soft.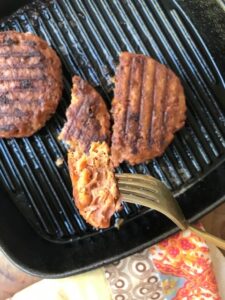 A true burger substitute? We don't eat beef burgers so I can't do a fair comparison with a regular hamburger. My guess is that they're a good alternative to fast food burgers or frozen burgers from the grocery store. However, if you're more of a homemade burger fan they are more of an alternative than a substitute for the real thing. My daughter, who is happy to eat a hamburger if offered, preferred the Beyond Burger to beef burgers because they "taste healthier".
Ingredients: These simulated beef burgers are soy-free, gluten-free, contain the same amount of protein as a homemade burger (20 g per burger) and have an average amount of sodium compared to other burgers. They have zero cholesterol and are fortified with vitamins and minerals.
Ease of cooking: The burgers cook quickly, about four minutes per side when cooked stove top.
Packaging: The only complaint I have is that there is more packaging than necessary. The burgers come in packages of two, in a heavy plastic bottom tray, sealed with plastic and then covered in a boxboard sleeve.
The company has just launched a packaged ground beef-like product (small trial in Colorado). It is made of the same mixture of pea, rice, and mung bean proteins as the Beyond Burger, but has less seasoning and was developed to more easily be formed into patties and meatballs. Called "Beyond Beef", it has 25 percent less saturated fat than traditional beef and no cholesterol. It also has much less packaging.
The Beyond Burgers are about $8.00 for a package of two.
Consensus: We'll definitely buy them again when we're in the mood for a burger and want something that's quick and easy to cook and reasonably healthy. But, no matter what way you look at it, Beyond Meat burgers are still processed food.