Sprinkle Magic Spice Blend liberally on salmon, haddock, shrimp, chicken, cauliflower, zucchini, green beans, Brussels sprouts, potatoes…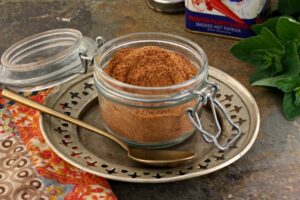 Back when we were in university my twin brother and I enjoyed an overnight visit with family friends who had just moved to a town near our school. It was right after exams and we were looking forward to cozy beds and a home cooked meal. Andrea was known to be a great cook and we sat down to our curry dinner with much anticipation. The fragrance was amazing but my palate wasn't accustomed to extra spicy food so I couldn't taste a thing. My mouth was on fire the entire meal. (Thankfully we had ice cream for dessert.)
Every once in a while I wonder what that meal would taste like if my palate was as tuned to spice then as it is now.
This spice rub has a little heat but nothing like that curry from long ago. If you do like extra heat it is easy to amp it up if you want a bit more of a bite.
It's the most versatile spice blend that I have in my cupboard and I sprinkle it liberally on salmon, haddock, shrimp, chicken, cauliflower, Brussels sprouts, potatoes, zucchini, sweet potato… Magic spice blend goes with everything.
I usually triple the recipe so I always have lots on hand. It also makes a great gift, packaged in a pretty bottle with the recipe fastened with a ribbon.
The recipe can be made without smoked paprika but the flavour is so much better when there is a little smokiness.
Magic Spice Blend Recipe
Ingredients:
2 tsp. garlic powder
1 ½ tsp. chili powder
1 ¼ tsp. salt
1 tsp. cumin
1 tsp. onion powder
½ tsp. smoked paprika
½ tsp. paprika
½ tsp chipotle powder or additional chili powder
Instructions:
Measure everything into a jar, fasten the lid and give it a good shake.
This spice blend will last for a few months.