Easy corn fritters suit breakfast and supper. Nicely textured with loads of whole corn kernels.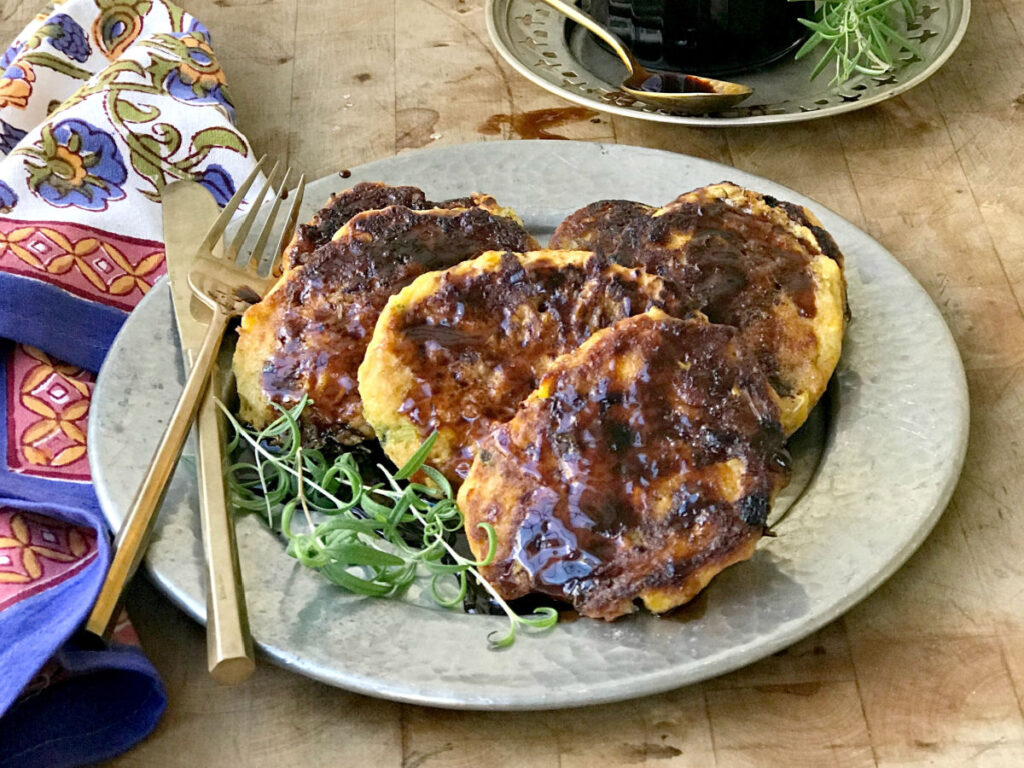 I was never one to complain about what I couldn't eat when I had braces. Changing the way I ate certain foods, or avoiding them altogether, wasn't a big deal, except when it came to corn on the cob. It was no fun to be carving my ear of corn when everyone around me was eating it in true summer fashion.
Instead, I figured out a way to bite the kernels off the cob one tidy row at a time. It was perfect – I didn't break any brackets and nothing got stuck in my braces. I still eat corn on the cob much the same way, in tidy rows so nothing gets stuck in my teeth.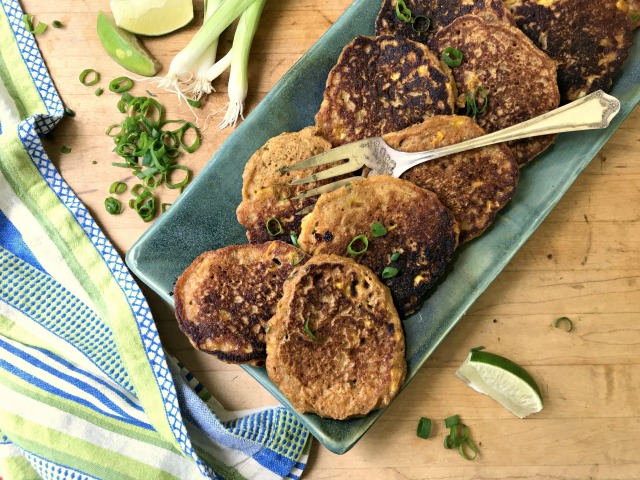 These corn fritters are another satisfying way to enjoy corn. They make a great side dish for summer suppers (with grilled zucchini and chicken kebabs) and are good with breakfast too, alongside eggs and bacon and drizzled with a little maple syrup or my spiced molasses. This recipe makes enough for 4-6 people.
Easy Corn Fritters Suit Breakfast and Supper
Course: Vegan, Vegetables
Difficulty: Easy
Easy corn fritters make a great side dish and are good with breakfast too.
Ingredients
1 Tbsp. olive oil

½ cup finely chopped onion

2 cups frozen corn

1 egg, lightly beaten

1 cup buttermilk or sour milk

1 Tbsp. chopped chives or green onion tops

¾ cup flour

½ cup fine cornmeal

1 ½ tsp. baking powder

¼ tsp. baking soda

¼ tsp. smoked paprika

½ tsp. chili powder

½ tsp. salt

Juice of half a lime or lemon
Directions
Warm a frying pan over medium heat, swirl in the oil then add the onion. Cook until soft then add the corn. Sauté until tender.
Whirr half of the corn mixture in a food processor until almost smooth. (I use an immersion blender for this step.)
In a medium bowl whisk the egg, buttermilk and chives. Whisk in the blended corn.
In a large bowl whisk the flour, cornmeal, baking powder and baking soda, salt and spices. Add wet to dry and stir until almost combined. Stir in remaining corn mixture (the half you didn't whirr) and the lime juice.
Let batter rest for 5-10 minutes.
Drop by ¼ cup measure on a medium-hot, well-greased frying pan.
Flip when the batter is set and the edges lose their wet look.
Serve warm.