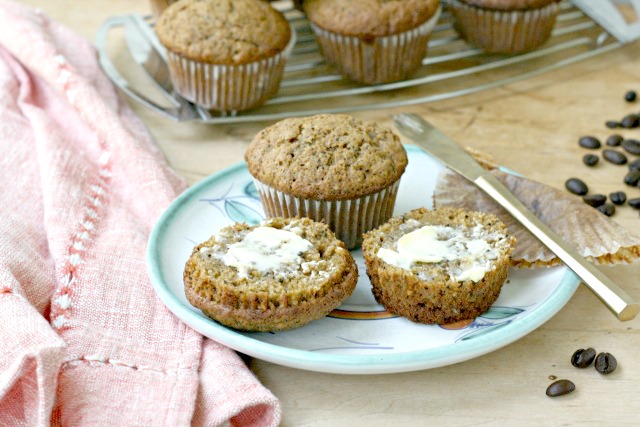 These easy Brown Sugar Banana Muffins are flavoured with coffee and a little molasses.
I love a good summer thunderstorm, especially up at our cottage. Shrouded by hemlock trees our place has a dim, cozy feel on rainy days and we definitely feel a connection with nature when booms of thunder shake the house.
I'm sure my delight in enjoying thunder storms (when safely inside) comes from my childhood. "The angels are having a bowling party!" was what we were told growing up each time the booms began and I can still conjure the childhood vision I held of that event high in the sky.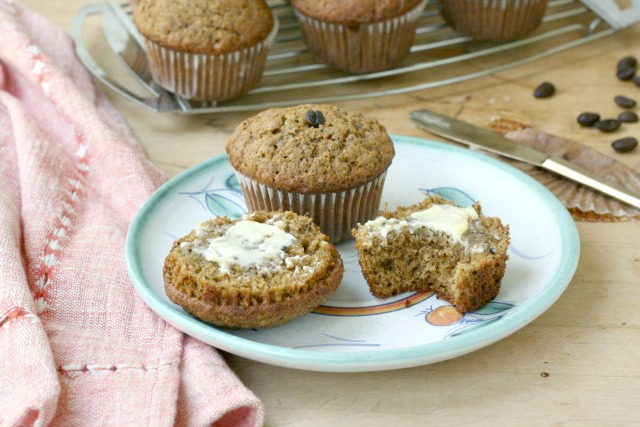 It was one such day up at our cottage when I first made these banana muffins. The recipe was given to me by an old friend and is perfect for summer mornings because it is so quick and easy to mix up.
These brown sugar banana muffins aren't as sticky as some banana muffins and the texture is more cake-like. The secret ingredient is ground coffee and it gives the muffins a mild and delicious java taste.
Tip: The recipe could easily handle add-ins – ½ cup walnut pieces or chocolate chips.
Secret Ingredient Brown Sugar Banana Muffins
Course: Breads, Muffins
These aren't sticky banana muffins — the texture is cake-like. The secret ingredient is ground coffee that gives the muffins a mild and delicious java taste. 
Ingredients
2 cups flour, spooned in

1 Tbsp. baking powder

¼ tsp. salt

4 tsp. finely ground coffee

1 tsp. cinnamon

2 ripe bananas

¾ cup brown sugar

½ cup oil (canola, grape seed or olive)

2 Tbsp. molasses

2 eggs, room temperature

1 tsp. vanilla
Directions
Preheat oven to 375 F and line muffin tin with paper liners or grease them well.
Whisk together the flour, baking powder, salt, coffee and cinnamon.
In another bowl mash the bananas then whisk in sugar, oil, molasses, eggs and vanilla.
Add wet to dry and stir gently until just a few streaks of flour remain. (Don't over-mix.)
Spoon into prepared pan and bake for 18-20 minutes.