Mom's oven baked ratatouille has terrific flavour and texture. The vegetables keep their shape when baked on a cookie sheet in the oven.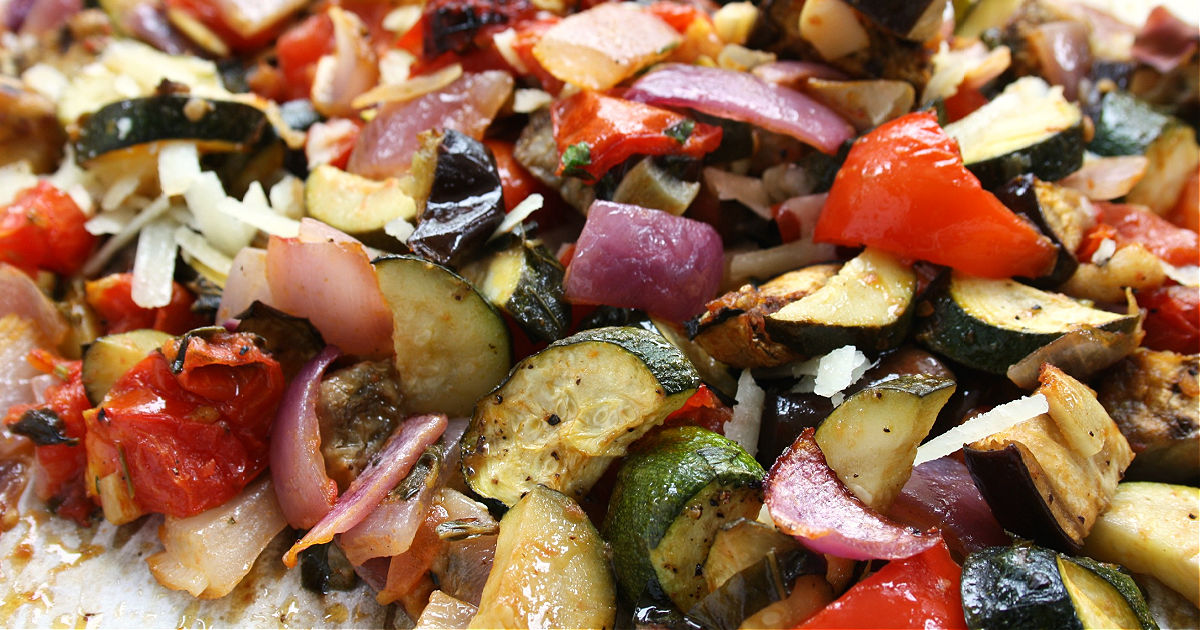 Baking ratatouille in the oven keeps it from going to mush.
In the house where I grew up we had a huge vegetable garden in our sunny side yard. I don't know how mom and dad managed it since I don't recall helping very much, except picking peas or beans for supper.
The garden was unfenced too. In those days deer weren't a problem for Rothesay gardeners, rabbits were so mom and dad used to plant leaf lettuce around the perimeter of the garden as a peace offering of sorts and it kept them at bay.
The giant sunflowers weren't so lucky — our dog used to launch herself at them, like they were dangerous intruders.
Harvests were great from that big sunny garden which had mom searching out new ways to use up all the vegetables, especially zucchini. She came across this ratatouille recipe in a Food & Wine magazine sometime in the late '70s or early '80s.Baked in the oven, it's the only way I can make ratatouille without having everything turn to mush.
Baked ratatouille is a versatile dish.
Ratatouille is the most versatile vegetable dish. It pairs well with chicken, fish and vegetarian dishes. Serve it alongside rice, couscous, polenta, or over pasta. Serve it hot or room temperature, tuck it into an omelette or drape it with feta cheese during the final few minutes of baking.
Green Living Tip: Zucchini and red peppers are best bought organic, if you can find them. Both have a lot of pesticide residue in and on them. For more info on pesticide on produce check our my blog post on The Clean Fifteen & Dirty Dozen or visit Environmental Working Group, the organization that created both lists.
Mom's Oven Baked Ratatouille
Course: Vegetables
Cuisine: Vegetarian
Difficulty: Easy
Easy oven-baked ratatouille is flavourful and versatile. Great texture.
Ingredients
2 cups sliced red onions

1 eggplant in 1/2 " dice

1 red pepper, roughly chopped

4 cups chopped zucchini, ½" dice

3 ½ cups chopped tomatoes

4 cloves garlic, minced

3 Tbsp. fresh basil

2 Tbsp. fresh thyme

2 Tbsp. fresh oregano

1 Tbsp. Dijon mustard

1/3 cup olive oil

¼ cup chopped parsley

Salt and pepper to taste

¼ cup grated Parmesan cheese
Directions
Toss vegetables in a large bowl. In a small bowl whisk together the oil and Dijon. Stir in the garlic.
Pour mixture over the vegetables and toss gently to coat.
Spread in a large baking dish or a parchment lined cookie sheet (with edges).
Bake at 300 F for 40 minutes to an hour, tossing gently from time to time, until vegetables are tender.
Season with salt and pepper and sprinkle with parmesan before serving.