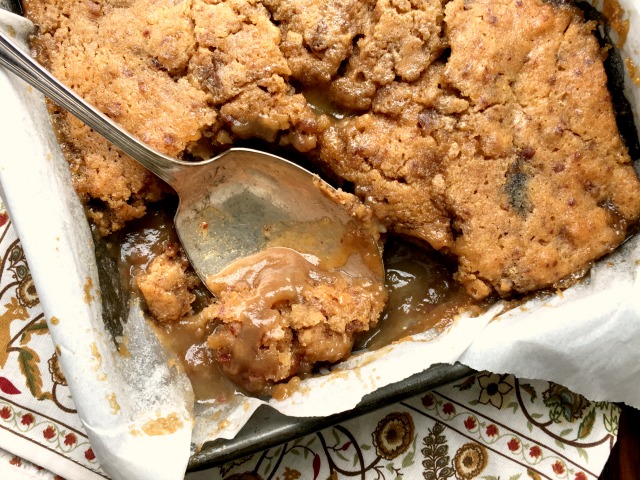 Sticky Date Pudding: a self-saucing pudding cake with a rich butterscotch flavour. Made with stone ground flour and organic dates. 
Throughout high school I had a job working at Shadow Lawn Inn. It was owned by Jean and Willie Ward at the time and I presume I was hired because my sisters and several of my cousins had worked there before me. It was the perfect part time job. We lived right around the corner and working for Jean and Willie was a great learning ground for life.
Shadow Lawn was famous for their wedding receptions and large dinners. As servers we squeezed our way through the crowds carrying coup glasses filled with sparkling wine, plates of sausage rolls and huge trays of tea sandwiches stuffed with the fattest lobster sandwiches I have ever seen.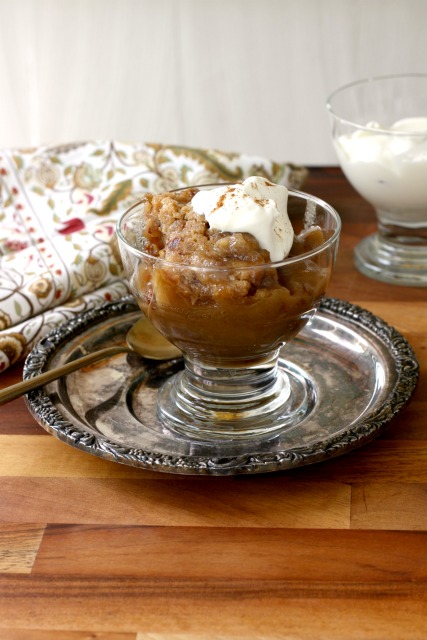 Pudding cakes are rustic desserts but they can still be dressed up with a little ice cream or whipped cream. At the big dinners seating was very snug and it took a little extra effort to squeeze in between guests to serve the meal and to clear the tables.
One evening when my cousin and I were clearing bread and butter plates, a knife with a slab of butter on it slid right into an open purse that was slung over the back of a chair. Not a word was said.
Although Jean was the cook, it seemed that Willie got the glory when he served the house specialties like Beef Wellington and flaming Baked Alaska. Jean had other well know recipes too, like her soft dinner rolls and her sticky date pudding. Jean recently passed away, and on the program for her memorial service her family shared the recipe for Jean's Sticky Date Pudding.
It's a self-saucing pudding cake with a rich butterscotch flavour.
Old Fashioned Sticky Date Pudding
Ingredients:
1 cup stone ground whole white flour (or white whole wheat)
2 tsp. baking powder
½ cup white sugar or raw susgar
1 cup finely chopped dates
½ cup milk of your choice
2 cups boiling water
1 cup brown sugar
3 Tbsp. butter
Instructions:
Grease an 8"x8" baking dish or line it with parchment paper, and preheat the oven to 350 F
In a large bowl, using a hand or stand mixer, beat together the flour, baking powder, white sugar, dates and milk.
Spread in the prepared dish.
In a medium bowl, whisk together the boiling water, brown sugar and butter and carefully pour over the date mixture. Do not stir.
Place the dish on a sided cookie sheet and bake 40 minutes or until set. Serve warm with whipped cream or vanilla ice cream.