Homemade pumpkin salad dressing (pumpkin vinaigrette) is so simple to make that you might never to buy store bought salad dressing again.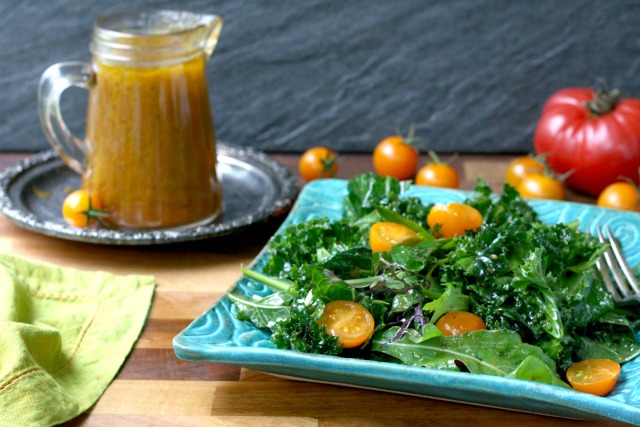 This flavourful pumpkin vinagrette has a lovely texture thanks to a good dollop of pumpkin puree.
Every Thanksgiving Sunday at our big family gathering we have an afternoon pumpkin carving. It's an annual tradition for my kids and nieces and nephews, and even though many of them are grown and on their own now, if they're able to come home for the holiday they (and now their significant others too) take part.
It's as fun to watch them today as it was years ago when they were all so little. Gathered around a table – out on the deck or in the kitchen, depending on the weather – they gab and laugh as they carve and I think how lucky they are to have this tradition all to themselves.
After dark we have the great pumpkin lighting with many oohs and awes and it really is a lovely sight with six or ten and sometimes more carefully carved pumpkins alight together.
Rarely have my kids' pumpkins lasted until Halloween. They usually go soft and collapse in on themselves within a week or two, but that doesn't change the amount of effort everyone puts into their creation.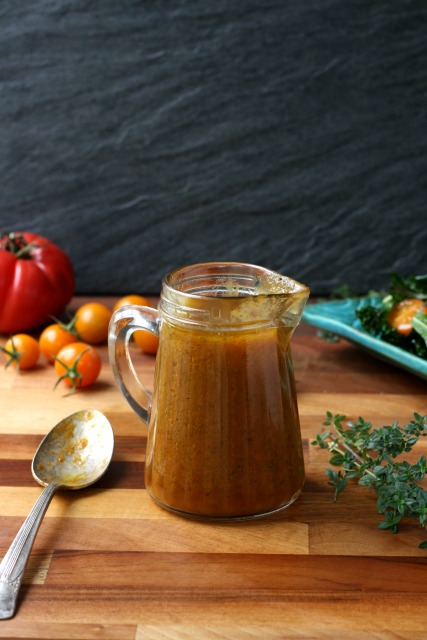 Pumpkin Vinaigrette – an easy recipe to help you use up leftover pumpkin puree.
I have all sorts of great recipes that call for pumpkin but no matter what I make I still always have leftover puree that needs to be used up. This recipe will help you do just that.
This is a tangy dressing that is thicker than regular vinaigrette. It's great on a green salad but is also delicious tossed with green beans or roasted beets. A batch will last a week in the fridge.
Easy Pumpkin Vinaigrette
Course: Salads
Difficulty: Easy
This flavourful vinagrette has a lovely texture thanks to a good dollop of pumpkin puree.
Ingredients
¼ cup pumpkin puree

¼ cup apple cider vinegar

1 Tbsp. water

2 Tbsp. pure maple syrup

1 ¼ tsp. Dijon mustard

1 small clove garlic, minced

½ cup good olive oil

½ teaspoon salt

A few grinds of black pepper

1 ½ Tbsp. fresh thyme or oregano, chopped (or ¼ tsp. dried)
Directions
In a medium sized bowl, whisk together the pumpkin, vinegar, water, maple syrup, Dijon and garlic.
Add olive oil in a thin stream, whisking as your pour.
Stir in salt, pepper and herbs.