Smooth textured and spiked with spices, this easy one-bowl recipe is my go-to for gift giving.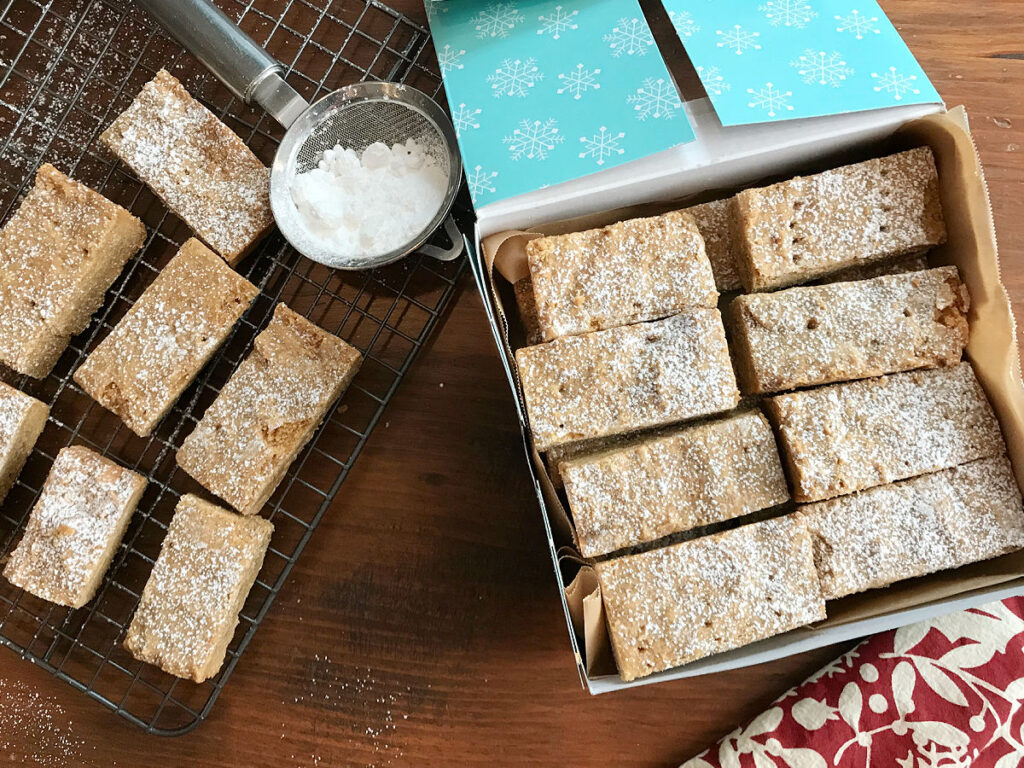 A five-ingredient recipe
Easy gingerbread shortbread cookies, a version of my favourite shortbread bars recipe, are perfect for Christmas. The recipe is simple – just five ingredients, and is mixed in one bowl. The dough is pressed into a pan and baked so no rolling and cutting required.
I like to make gingerbread shortbread with a mixture of all-purpose and wholegrain flour, either whole wheat, spelt or rye. It gives them more flavour and deepens the colour.
The recipe gets its beautiful texture from the addition of cornstarch and icing sugar instead of granulated sugar. Both keep the bars light, even when you use heavier flour.
Sometimes I'll make this recipe with powdered ginger and no gingerbread spices. If you love all things ginger add 1/4 cup minced candied ginger to this version. If shortbread and ginger make you swoon, try this recipe for Skibo Castle Ginger Crunch.
To decorate you can either dust with icing sugar or drizzle with chocolate.
Make your own gingerbread spice blend
4 tsp ginger
2 tsp cinnamon
1 tsp allspice
1/2 tsp each, nutmeg, cloves

Variations:
Add 1/8 tsp of cardamom and/or mace
Easy Gingerbread Shortbread Cookies
Course: Cookies
Smooth textured and spiked with spices, this easy one-bowl recipe is my go-to for gift giving.
Ingredients
1 cup plus 2 Tbsp. butter, room temperature

½ cup plus 2 Tbsp icing sugar

2 cups flour (spooned in)

2/3 cup cornstarch or arrowroot powder

1 1/2 tsp. gingerbread spice blend or powdered ginger
Directions
Preheat oven to 300 F
Cream butter and sugar. Add flour, cornstarch and spices. Be careful not to over-mix
Press into a 9"x9" pan and prick with a fork.
Bake 50-55 min.
When almost cooled cut into bars or squares
Are you curious about the history of these buttery cookies? Here's a version that caught my eye.