Chickpea chocolate chip cookies are made with chickpea flour (besan). These gluten-free cookies are a healthier version of a classic recipe.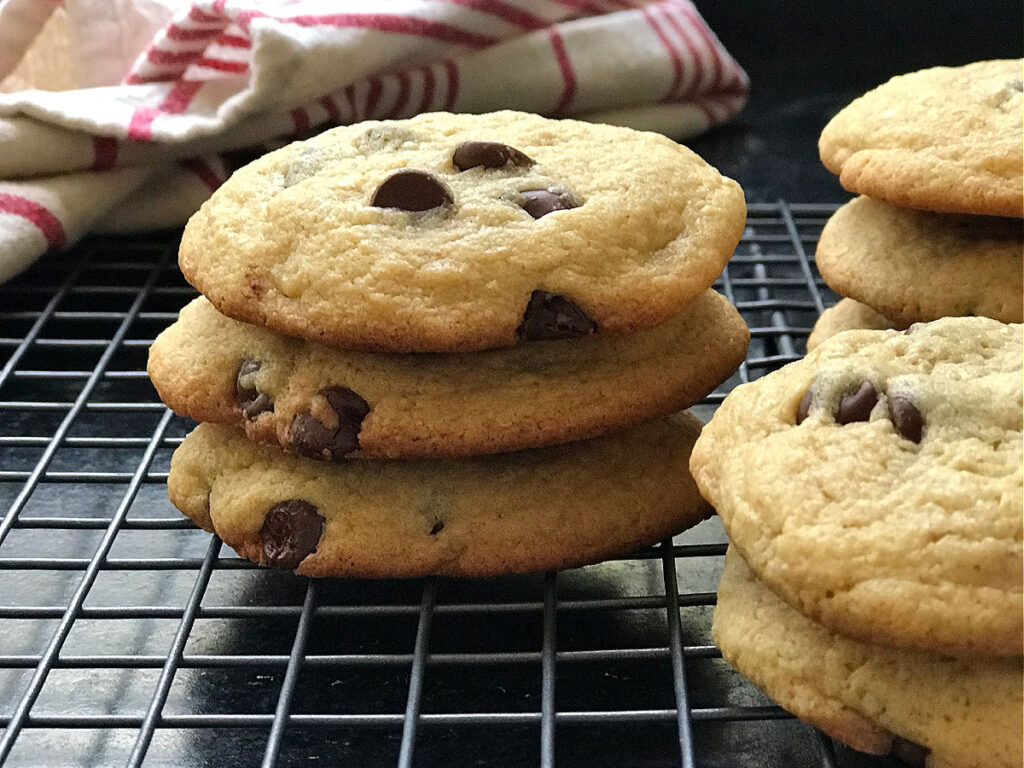 One of the best ways I know to make baking healthier is to play with different kinds of flour. Cookies are the easiest to fiddle with and the most forgiving when it comes to using different flours and add-ins. (One of my favourite cookies on this site was created with that kind of abandon.)
In this recipe, adapted from the blog Ambitious Kitchen, chickpea flour is substitute for regular flour and the result is a delicious, beautifully textured cookie that's on the healthy side.
An easy gluten-free cookie option
The beauty of baking with chickpea flour is that it isn't gritty or sandy. It holds a good amount of moisture and makes your baking almost fluffy. It has substance too so these chickpea chocolate chip cookies are pleasantly filling.
Don't be tempted to eat the cookie dough 🙂
Raw chickpea flour is bitter and beany so a taste of the dough isn't worth it. Just know that they really do bake into delicious cookies. (You've been warned.)
Chickpea Chocolate Chip Cookies
Course: Snacks
Difficulty: Easy
Chickpea chocolate chip cookies are made with chickpea flour (besan). They're a healthier version of a classic recipe. Gluten-free.
Ingredients
1 1/2 cups chickpea flour

1/2 tsp. baking soda

1/2 tsp. salt

1 large egg, room temperature

1 egg yolk

1/2 cup brown sugar

1/4 cup melted butter, cooled slightly

1/4 cup coconut oil, melted and cooled slightly

1/2 to 2/3 cup chocolate chips
Directions
Preheat oven to 350 F and line a baking sheet with parchment paper.
Whisk together flour, baking soda and salt.
In another bowl, whisk the egg and extra yolk with the brown sugar, then add the melted butter, coconut oil and vanilla.
Whisk until light in colour (the colour of brown sugar fudge).
Stir in flour and when almost combined add chocolate chips.
Portion into cookies using a medium cookie scoop or heaping tablespoon of dough.
Bake 10-12 minutes.