Tangy, sweet and buttery this simple maple sauce elevates humble winter squash into a star dish for your fall and winter meals.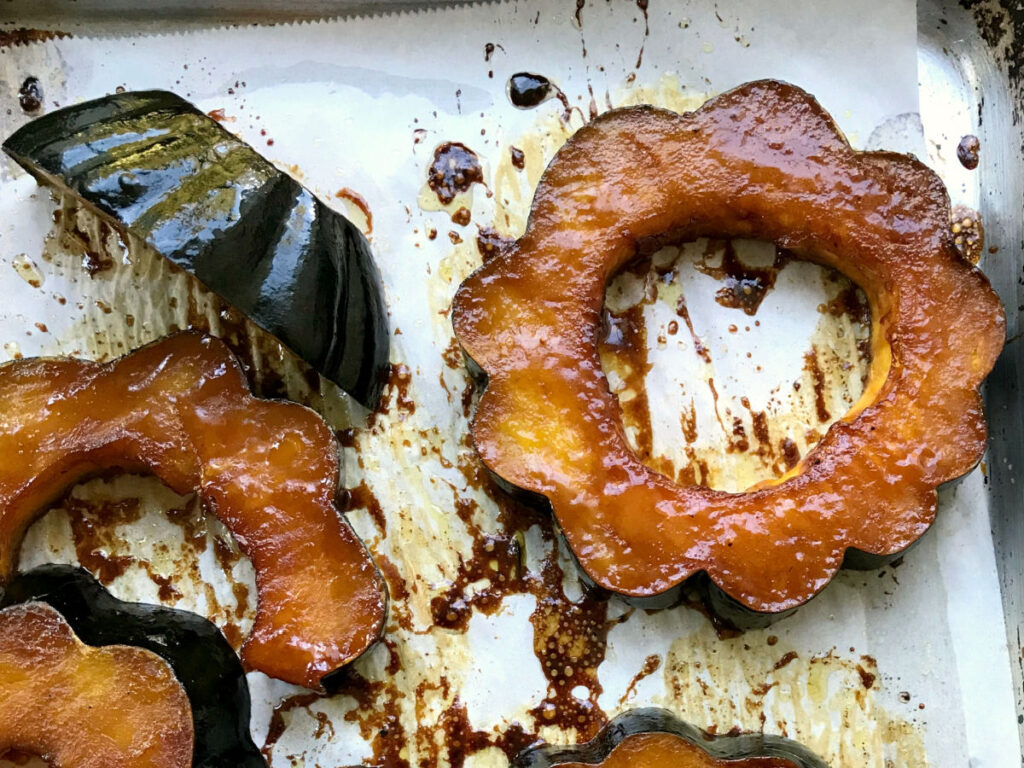 Maple roasted winter squash can be made with your favourite (or most accessible) type of winter squash.
When I was growing up, winter squash in our house was mostly served mashed and it was not my favourite. I only laboured through it to get to dessert.
But as an adult I discovered roasted squash with crispy edges. Ever since then I have been hooked on this richly coloured winter vegetable. I love to roast squash simply with olive oil, salt and pepper, sometimes with onions and sage. When I'm in the mood for a little more tangy sweetness I make this recipe for maple roasted winter squash.
Basting the squash with a tangy maple sauce adds moisture and great flavour.
Basting the squash with a tangy maple sauce adds moisture to the squash (great when it's dry) and great flavour.
The winter squash I use most often in my kitchen are buttercup, acorn and delicata. This sauce and cooking method are suitable for all types of winter squash. Try the maple sauce with Brussels sprouts and carrots too.
If I'm not roasting squash I'm making soup, like this recipe for curried squash and cauliflower soup, or simple buttercup squash soup.
Maple Roasted Winter Squash
Course: Uncategorized
This 5-minute tangy maple sauce will elevate your favourite winter vegetables, including winter squash, carrots and onions.
Ingredients
1/4 cup butter

1/4 cup pure maple syrup

2 Tbsp. apple cider vinegar

Pinch of salt

Freshly ground black pepper to taste

One winter squash, sliced or cubed.
Directions
Combine first five ingredients in a small saucepan and warm over medium heat, stirring from time to time. Bring to a light simmer and cook for five minutes.
To bake maple roasted squash:
Preheat oven to 375 F
Brush or toss squash with some of the sauce, until coated. Bake for 15 minutes. Remove from oven, flip or toss, brush with more sauce or drizzle and toss if using cubed squash.
Cook until tender.