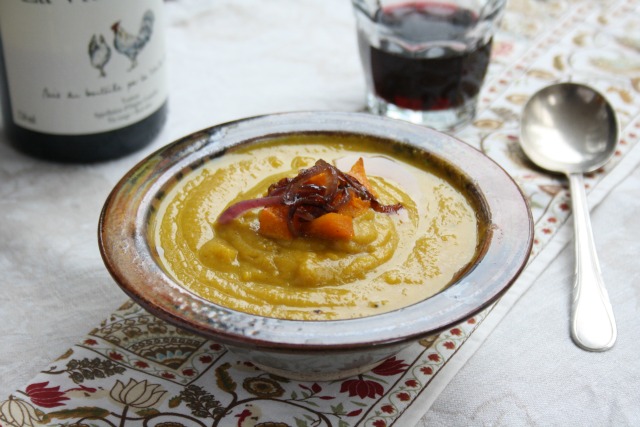 Curried Squash and Cauliflower Soup is a very creamy cream-less soup.
November marks the beginning of soup season in our house. When the weather turns and the days get shorter there are few meals more comforting than a hearty bowl of soup. And I can't think of a better way to eat a pile of vegetables in one sitting.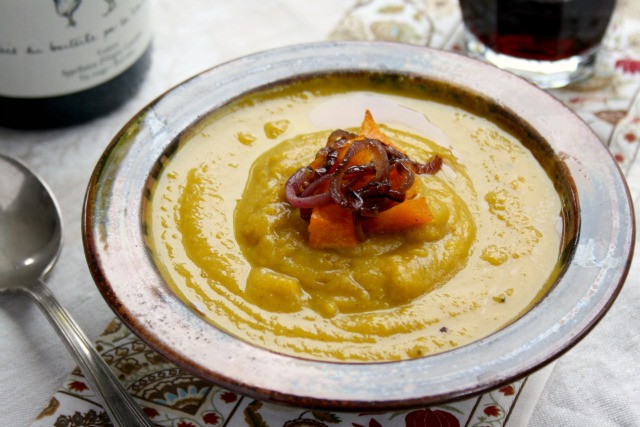 Remembrance Day is a special soup day with my family. For years now we have gathered at my mom's house after the Remembrance Day ceremony on the Rothesay Common. Always a solemn and reflective ceremony, and beautiful in its simplicity, it feels fitting to honour the day by sharing a warm and very simple meal with family.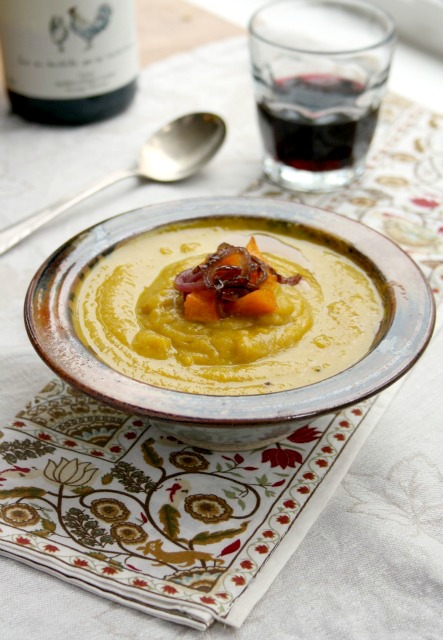 This recipe that mom clipped out of Food & Wine magazine back in 2000 has often been served at our annual soup gathering, along with hot biscuits and cornbread.
This is a very creamy, cream-less soup, but coconut cream or coconut milk would be a tasty addition if you want your soup to be a little richer.
Green Tip:
Buy locally-grown winter squash (buttercup, acorn, butternut) when it's plentiful in the fall. If you have a cool spot to store it, the squash should last 2-3 months.  You can also peel and chop the squash and freeze it for use in soups and risotto. Or you can cut the squash in half, core and bake at 400 F until soft. Scoop out the flesh and freeze.

Curried Buttercup Squash and Cauliflower Soup
Ingredients:
1 Tbsp. butter or olive oil

Sea salt & freshly ground pepper

2 ½ lbs. winter squash, peeled & cut into 1" chunks*

Half a head of cauliflower (about a pound) cut into flowerets

1 Tbsp. honey (or maple syrup if you're vegan)
Instructions:
In a large heavy pot melt the butter/oil over medium heat and add the onion. Saute until soft but not brown.

Stir in the curry powder, cinnamon, a pinch of salt and a few grinds of pepper. Cook for about a minute.

Add squash and cauliflower and toss to coat.

Add the stock and bring to a simmer.

Cook until vegetables are tender, stirring often.

Puree with an emersion blender (or in a blender).

Stir in the honey/maple syrup and season with salt and pepper.

To serve, garnish with roasted squash and some crispy fried onions
*Cut a quarter of the squash into ¼" dice, toss with 1 tsp. of olive oil and a sprinkle of salt and roast at 400 F until tender.