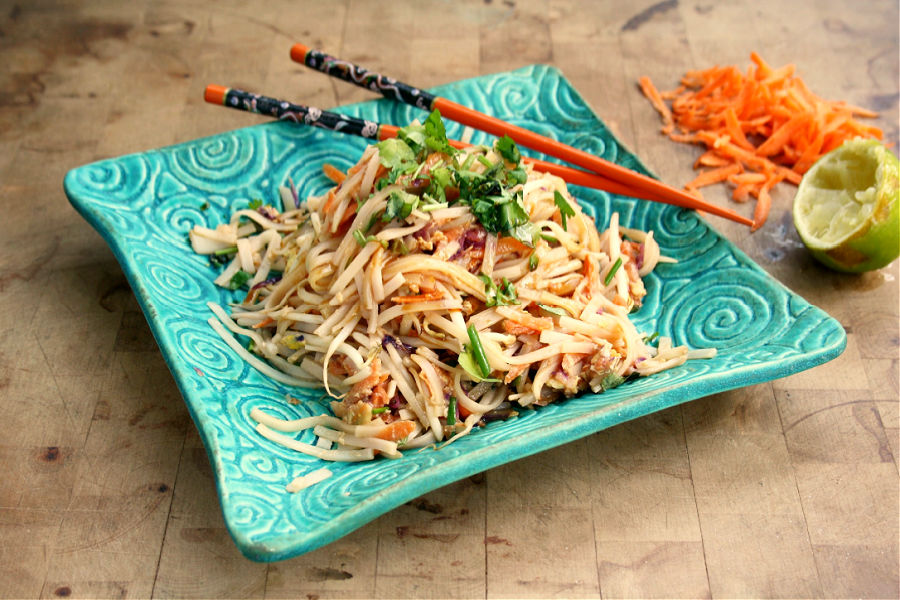 Easy vegetarian Pad Thai can be a speedy weeknight staple when you have a straight forward recipe that uses mostly pantry staples.
It's easy to find family favourite cookbooks on a bookshelf. They're the dog-eared ones on with cracked spines, corners of pages folded over and notes in the margins. One of my favourite cookbooks, Moosewood Cooks at Home, has a broken spine, loose pages and spatters all over the most used recipes.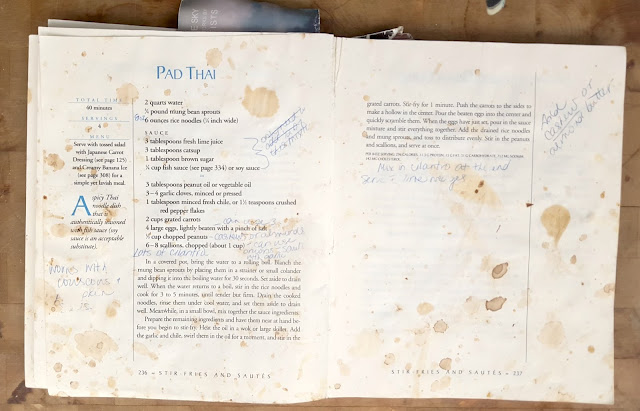 The book arrived in the mail in the spring of 1994, hot off the press and a week before I was to write a major statistics exam. Never was statistics more painful. I sat this much-anticipated cookbook on the table beside me, unopened, while I worked through practice problems. I decided it would be my reward for completing the exam. I have cooked all sorts of recipes from the book but none more than pad Thai. I still love take-out pad Thai but it's a treat to know that it's a simple dish to make at home too.
How to make Pad Thai the easy way
I have adapted this pad Thai recipe slightly over the years. I don't always have fish sauce so substitute with soy sauce or tamari. Sometimes I add a cup or two of shredded Savoy or Napa cabbage and I love tossing in some julienne red pepper for colour. Feel free to make your own additions, depending on what you have in the fridge.
Green tips:
Are you looking for more 30-Minute Meal ideas? Try my Easy Fish Curry recipe.
If you're in the market for a wok, skip those with a non-stick coating. Teflon is known to be toxic when heated to medium-high temperatures. (There are similar concerns with newer non-stick coatings that are Teflon-free.) Plus, scraped off bits of the coating end up in your food.
Waste less: When you buy scallions use the whole thing, not just the white parts. The green adds colour and more nutrition to your dish.
Easy Vegetarian Pad Thai
Course: Vegetarian
Difficulty: Easy
This easy recipe is made mostly with pantry staples.
Ingredients
6-8 ounces rice noodles (1/4"wide)

3 Tbsp. fresh lime juice

3 Tbsp. ketchup

1 Tbs. brown sugar

¼ cup fish sauce or soy sauce or tamari

3 Tbsp. oil

3-4 cloves garlic, minced or pressed

½ to 1 ½ tsp. crushed red pepper flakes (depending how hot you like it)

2 cups grated carrots or half grated carrots and half shaved cabbage.

4 eggs, lightly beaten

8 oz. mung bean sprouts

½ cup chopped peanuts or toasted sunflower seeds

6-8 scallions, sliced (white u0026 green parts)

¼ cup snipped cilantro
Directions
Soak rice noodles in boiling water until tender. Drain and rinse under cold water. (Careful not to let them get too soft).
Combine lime juice, ketchup, brown sugar, and fish sauce in a small bowl and set aside.
Heat oil in a large wok or skillet. Add garlic and crushed red pepper and swirl them in the oil. Add the carrots and stir-fry for one minute.
Push carrots to the side and make a hollow in the centre. Pour beaten eggs into the centre and quickly scramble them.
Pour in the sauce mixture and combine. Add the drained noodles and sprouts and toss to distribute evenly.
Stir in the peanuts and scallions. Sprinkle with cilantro.
Serve at once.