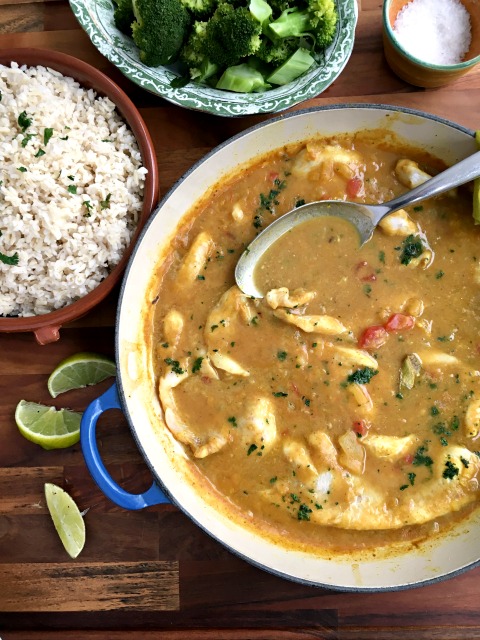 Easy fish curry is the perfect dish to win over kids who say they don't like fish.  The fillets stay moist and are infused with curry flavour. This recipe is great with all sorts of fish.
Years ago I had a co-worker who had all of her family's weeknight meals planned out in advance. It was the same menu each week and she did her grocery shopping accordingly. Having chicken Alfredo every Tuesday night helped her maintain her sanity and I understood that.
We had the same mealtime chaos in our house when our kids were young but I couldn't quite settle into such a strict routine. Choosing what to make for supper on any given night has as much to do with what we all feel like eating as it does how quickly we want to get supper on the table, so instead of a set menu I created a list of a dozen or so dishes that were fairly easy to prepare.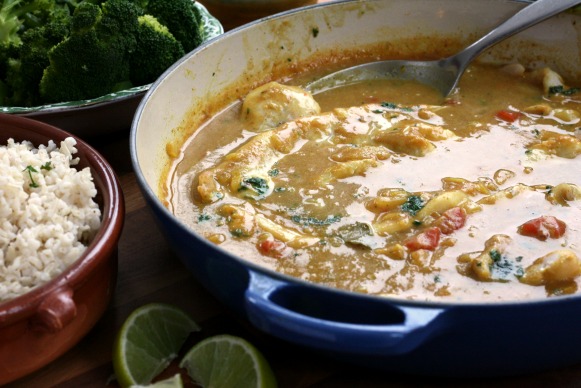 Written on the inside cover of one of my hand written cookbooks, the list is titled "What to eat when we're starving and don't know what we want to eat."
Among the ideas on the list is an easy fish curry dish that we recently rediscovered. The fish is poached in a flavourful curry broth so you end up with moist fillets in a lovely sauce. It is delicious served over rice and the sauce does wonders for plain steamed broccoli served alongside.
Easy Fish Curry Recipe
Serves 2
Ingredients:
1 ½ Tbsp. butter
1 small onion, minced
½ Tbsp. fresh grated ginger and/or a clove of garlic
½-1 Tbsp. of your favourite curry powder or paste
1 Tbsp. flour
1 cup water or vegetable stock
2 Tbsp. tomato sauce or a chopped tomato
2 haddock, cod or salmon fillets
2 Tbsp. cilantro
Instructions:
Preheat oven to 350 F.
Warm an oven-safe pan over medium heat and add the butter.
When melted add the onion and ginger/garlic and sauté until soft.
Stir in the curry then the flour. Whisk in the water or broth and the tomato sauce.
When it starts to thicken place the fish in the pan, spoon over the sauce and put pan in the oven.
Bake 20 minutes, or until fish is cooked through.
Sprinkle with cilantro and serve over rice.