These easy walnut scones with vanilla glaze have a lovely tender crumb. Make them for special occasions or a regular Sunday morning.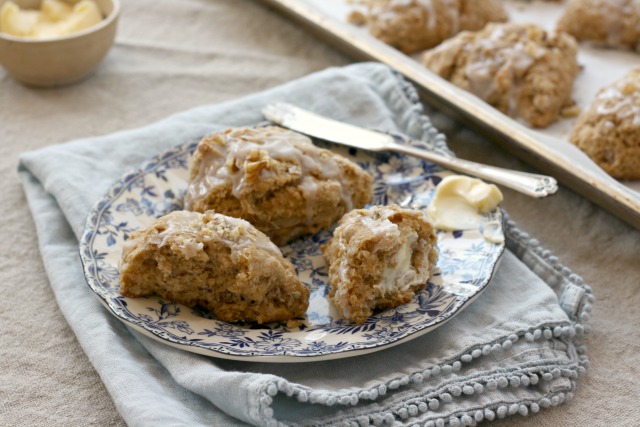 Easter was always a big celebration in our house when I was growing up. We'd have big family meals and the Easter Bunny always left us a chocolate bunny, a new book and something new to wear. My Easter egg hunt memories are much later, through my high school and university years. By then it was just two of my brothers and I so there was a lot less competition. Even better, my dad half-hid giant eater eggs so it was great fun in a silly way.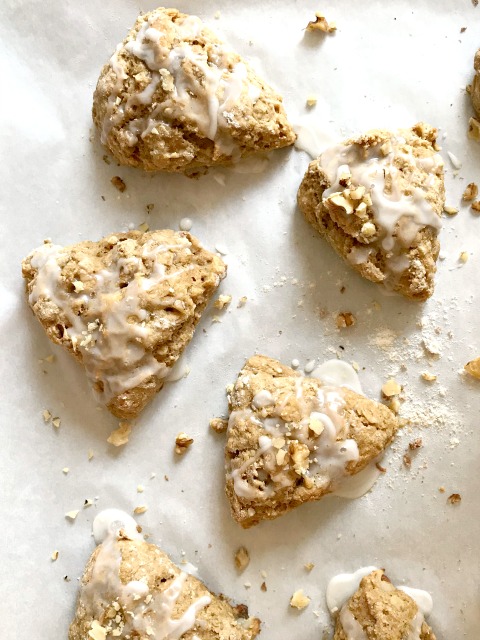 All of these chocolate memories are wonderful but my true Easter food love has always been Easter breads.
Mom has always made special yeast breads – hot cross buns and a maple syrup coffee ring – for Easter. They are family treats that I look forward to every year but I also love simple quick breads like the special scones that I make over Easter weekend. This walnut scone recipe is easy, delicious and takes little time to prepare and bake.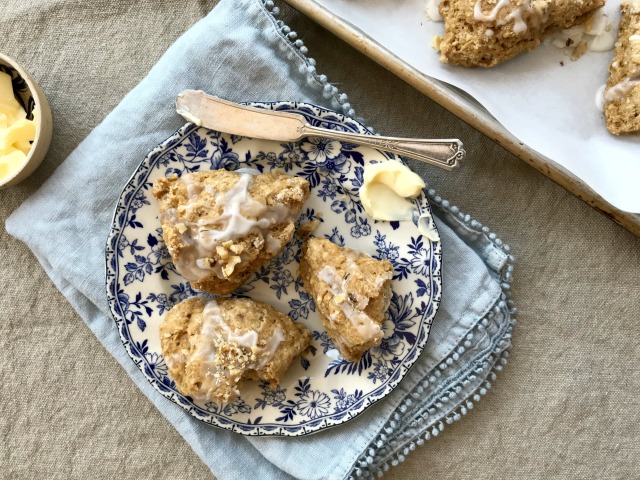 The dough is very tender so take care not to work it too much. The sweet glaze makes them an extra special treat.
Easy Walnut Scones with Vanilla Glaze Recipe
Ingredients:
2 cups flour, spooned in
2 Tbsp. sugar
1 ½ tsp. baking powder
¼ tsp. baking soda
½ tsp. salt
¼ cup cold butter
¾ cup + 2 Tbsp. milk
2 Tbsp. molasses, honey or maple syrup
¾ cup walnuts, coarsely chopped
Glaze:
½ cup icing sugar
1-2 Tbsp. cream
½ t vanilla
¼ cup walnuts, finely chopped
Instructions:
Preheat oven to 425 F.
Combine dry ingredients and cut in butter with a pastry blender or two knives.
Combine milk and molasses (or honey or maple syrup), mix well and add to dry mixture along with the walnuts .
Stir gently just until the dough comes together.
Turn out onto a lightly floured surface. (This is a very light and sticky dough but resist the urge to add more flour. Keeping with the flour proportions and working the dough as little as possible creates the most beautifully soft scone.)
Divide dough in half and pat each half into a 1" thick disk, fold it over on itself to create a half-moon, then fold it over again. Gently pat into a 1" thick disk, cut into 6 wedges.
Place on a parchment-lined cookie sheet at least 1"apart.
Bake 10-12 minutes.
Remove from oven and coat with glaze while still warm. Sprinkle with finely chopped walnuts. Serve warm.