Sunshine lentil soup is easy, warming & brightly flavoured with lemon.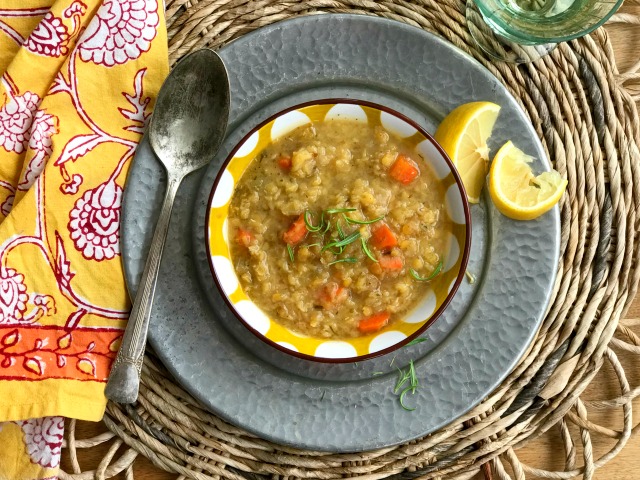 If ever there was a soup to help you through the slushy (or icy, or snowy) month of March, this is it. Easy to make, warming, and brightly flavoured, sunshine lentil soup with lemon makes a quick supper on a messy evening when you just want to curl up by the fire and dream about riding your bike in your shorts.
I had a March like that when I was little, where I dreamed about riding my bike. In grade five I won a new bicycle in a poster contest. It was a five-speed with curled handlebars so looked like a 10-speed – my first grown-up bike. But it was March and slushy so instead of just tucking it away in the garage mom let me keep it in the house for a week so I could ride it from one end of the kitchen to the other.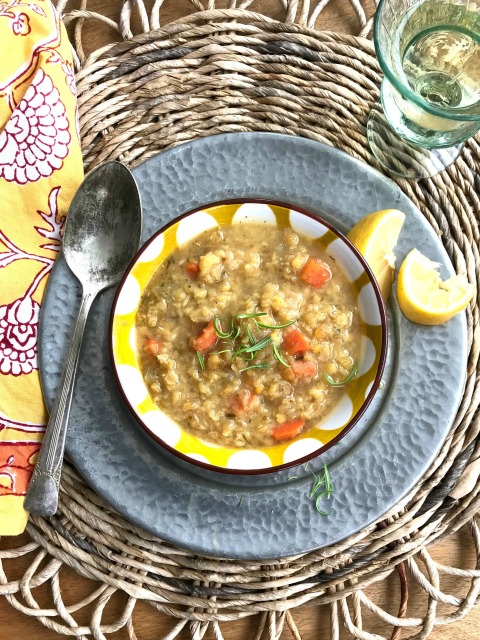 It's the lemon in this soup that will help transport you out of winter. The recipe calls for the juice of an entire lemon and don't skimp, because that sunny flavour takes this soup beyond winter.
The recipe is a slight adaptation of a recipe in the excellent cookbook,
Whitewater Cooks.
Sunshine Lentil Soup
Course: Soups, Main Dish
Cuisine: Vegetarian, Vegan
Difficulty: Easy
Easy to make, warming and brightly flavoured, it's a quick satisfying supper.
Ingredients
1 cup red lentils

1 Tbsp. olive oil

1 onion, diced

1 tsp. salt

¼ tsp. freshly ground black pepper

3 cloves garlic, minced

2 medium carrots, in ½" dice

Pinch of red pepper flakes

½ Tbsp. oregano

½ Tbsp. dried rosemary

1 bay leaf

5-6 cup vegetable or chicken stock

Juice of one lemon
Directions
Rinse and drain the lentils and set aside.
In a large pot over medium heat warm the olive oil until it shimmers. Add the onion and saute until soft. 
Add the salt, pepper, red pepper flakes, garlic, and carrots. Saute until the carrots are tender.
Add herbs, bay leaf, 5 cups of the broth and drained lentils. Stir to break up any clumps of lentils. 
Bring to a simmer and cook until the lentils are soft. Add remaining cup of broth if you'd like to thin it out a bit. 
Stir in lemon juice and adjust seasoning (salt & pepper) if necessary.
Ladle into big bowls and serve with crusty bread and Parmesan cheese.