These moist zucchini muffins are extra lemony and get extra flavour from a little molasses. The recipe works well using half whole wheat flour.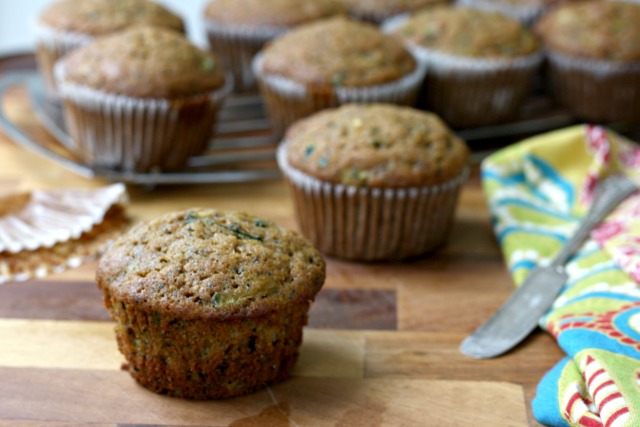 As a child I'd come home from school to freshly-baked muffins cooling on the counter. Mom had a few different recipes she'd make and we'd devour them as soon as we walked in the door. One of my favourites was mom's lemony zucchini muffins. The recipe has gone missing but I have since discovered a recipe that reminds me of the original from long ago. They're extra lemony and not too sweet.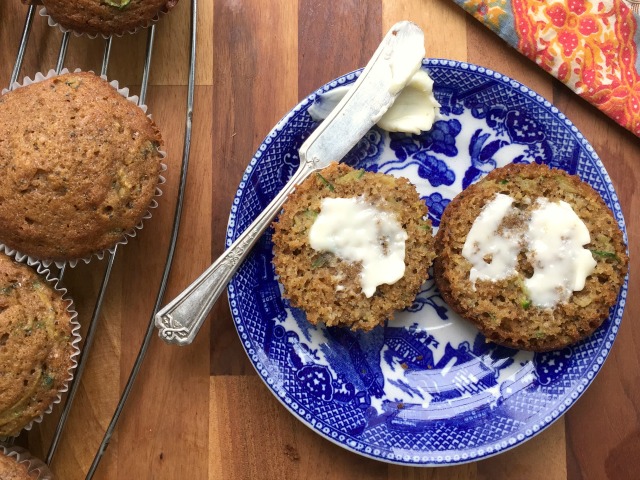 Tip: The trick with zucchini muffins is to squeeze out some of the moisture from the grated zucchini before adding it to the recipe.
This is like an old fashioned muffin recipe. The muffins aren't too sweet and they aren't too big.
As with all of my baking, I use locally grown and milled stone ground flour for this recipe.
Mom's Lemony Zucchini Muffins Recipe
Makes a scant 12 muffins
Ingredients:
1 ½ cups grated zucchini
½ cup brown sugar
2 Tbsp. fancy molasses
½ cup oil (olive, canola, grapeseed)
2 large eggs
1 tsp. vanilla
Grated zest of a lemon
½ Tbsp. lemon juice
1 ½ cups flour, spooned in (can use half whole wheat or spelt)
½ tsp. salt
½ tsp. baking powder
¼ tsp. baking soda
1 Tbsp. poppy seeds
Instructions:
Preheat oven to 400 F and line muffin pans with papers or grease them well. Squeeze the grated zucchini over the sink, a handful at a time, to get rid of some of the excess moisture.
In a medium bowl beat the sugar, oil and molasses Stir in the eggs one at a time then add the vanilla, lemon zest and juice. Stir in the zucchini.
In a large bowl stir together the flour, baking powder, baking soda, salt and poppy seeds.
Gently stir wet ingredients into the flour mixture and stir until almost combined. Divide batter among the muffin cups, put pan in the oven and immediately reduce the temperature to 375 F.
Bake for about 15 minutes, until tops of muffins spring back when lightly touched.
Cool in pan 10 minutes then remove to a wire rack to finish cooling.