Here are 8 eco-friendly products that we use every day. They're practical, handy and made to last.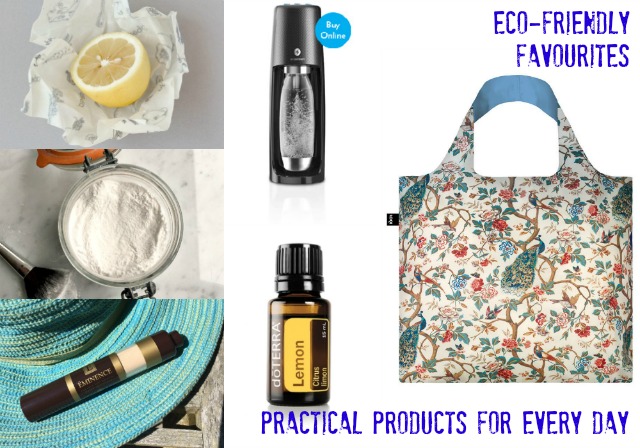 The transition from summer to fall is often a busy shopping time, even if you don't have kids in school. It makes me think about my shopping habits and some of the everyday products that I buy.
Below is a list of eco-minded products that help me and my family feel healthy and organized. All are practical favourites that get used daily (or at least weekly) in our home.
8 Favourite Eco-Friendly Products:
Abeego self-adhesive beeswax food wrap. Made of hemp and cotton fabric that's coated in a combination of beeswax, tree resin and jojoba oil; it's a sustainable replacement for plastic wrap that lasts forever. You simply hand wash it in cold water with biodegradable dish soap. It can't be heated, but plastic wrap shouldn't be heated either. It's a little expensive but is made to last. Made in Canada.
My homemade two-ingredient natural deodorant. It's a 50/50 blend of baking soda and arrowroot flour/powder. I blend half a cup of each and store it in a wide-mouth jar then apply it with a blush brush. (You could also use a talcum-style poof.) Look for arrowroot powder in the natural foods section at the grocery store (Bob's Red Mill brand). This deodorant is easy to make, works well and is non-toxic (unlike most store-bought deodorant).
Our SodaStream water carbonator. It is seven years old and still going strong. This is a great investment for anyone who enjoys sparkling water because it enables you to carbonate tap water – meaning you can stop buying bottled water. Bottled water has an excessive carbon footprint so anything that allows us to be smart about water use is beneficial.
Eminence natural mineral-based powdered sunscreen. This is the best daily facial sunscreen I have ever used. It's easy to apply evenly with a self-contained brush and is rated SPF 30. This is high quality sunscreen that works as it should and I don't have to worry about putting chemical sunscreen on my face each day.
My Envirosax and LOQI reusable roll-up shopping bags. These are light weight, water resistant, washable bags that fit in my purse so I always have them with me. You can pack a surprising amount of stuff into these bags. Plus they come in all sorts of fun designs. I buy mine at The Feel Good Store in Uptown Saint John.
My hand-thrown pottery coffee mugs. I have a weakness for handmade bowls and mugs so have gathered a beautiful collection over the years, including many made by my sister, Martha Millard. The weight, shape and feel of a handmade mug make my quiet, early morning coffee, even better.
Our hot air popcorn popper. It's my son who gets the most use out of this, popping popcorn for a late night snack. It's an easy way to make fluffy popcorn and made better by the fact that you can buy good quality popping corn. We buy an locally-grown organic popping corn from Speerville Flour Mill.
Essential oils for cleaning, consuming, basic family first aid and more: citrus oils for cleaning; tea tree and thyme for disinfecting; a variety of blends for immune boosting; others for aches and pains. Over the past couple of years we have integrated them into just about every aspect of our lives. Our preferred brand of oils is doTERRA.