Kitchen sink granola bars – one of the simplest recipes ever. You can add nuts and/or seeds and include whatever dried fruit you have in the house.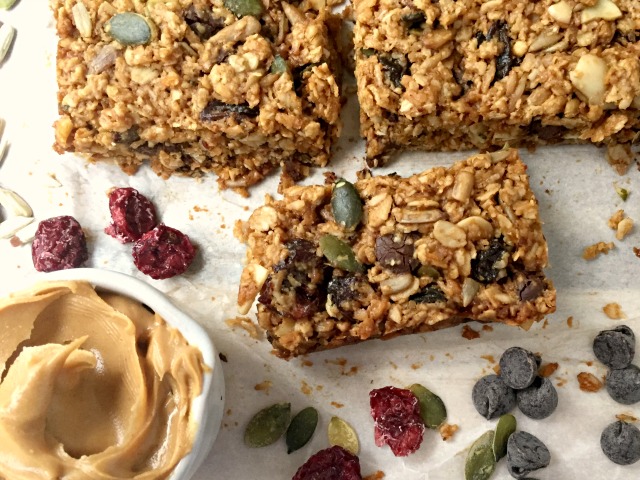 When we're in the thick of summer I can't help but think about road trips past and how spending long periods of time in the car with family or friends usually leads to all manner of memorable experiences.
No road trip is complete without a good stash of snacks. I remember one time when I was little, heading home from Maine with my whole family stuffed into our woody station wagon. I was seated up front, between mom and dad, and someone in back asked for a snack. We had one Wagon Wheel left so I tossed it their way, but my aim was poor and it went right out the window.
We were better prepared a few years ago when we were planning a family holiday in France. We decided to stock up on Cliff Bars since they travel well and offer a bit more sustenance than some other snacks. It seemed like a good idea at the time, and they did come in handy on the flight over, but Cliff Bars can't compete with thoughts of pain au chocolate, croissants, and fresh bread and cheese.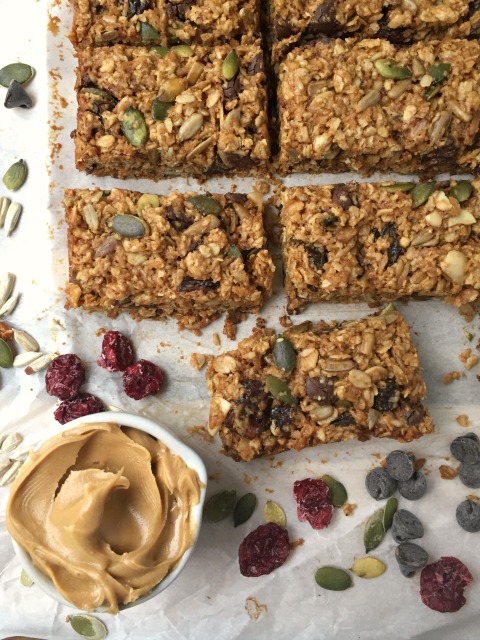 This kitchen sink granola bar recipe is good for road trips and one of the simplest ever. You can add nuts and/or seeds (handy if you're making them for school lunches) and you can include whatever dried fruit you have in the house. The recipe also calls for a bit of nut butter which does great things for the flavour and texture. If you want to avoid nuts this recipe also works well with sunflower seed butter.
Kitchen Sink Granola Bars
Ingredients:
1 ½ cups rolled oats, divided (GF if necessary)
¼ cup butter or coconut oil
2 Tbsp. brown sugar
2 Tbsp. fancy molasses
2 Tbsp. maple syrup
¼ cup almond butter or peanut butter
½ cup shredded coconut
½ cup chocolate chips
½ cup nuts or seeds
½ cup dried fruit
Instructions:
Preheat the oven to 350 F and line a 9" x 9" pan with parchment paper.
Take half a cup of the rolled oats and pulse them in a blender or food processor for a few seconds.
In a medium pot, combine the butter with the sugar, molasses and maple syrup. When the butter has melted and the sugar is no longer gritty remove from heat and stir in the nut butter. Stir in the rolled oats (whole and processed).
Let cool a bit then stir in remaining ingredients.
Press into prepared pan, using a spatula or smaller pan to compact the mixture as much as possible.
Bake for 25 minutes.
When almost cool cut into squares or bars.