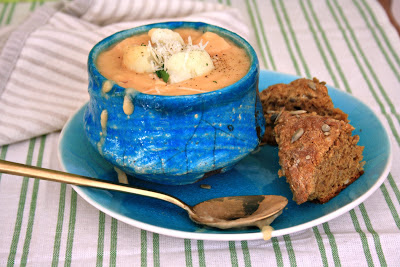 Make this cauliflower cheese soup in 30 minutes.
Rainy days seem to go with soup.
When I was little we'd often have grilled cheese sandwiches and tomato soup for lunch when the weather was nasty. In the often slushy month of March I remember sloshing home from school at lunchtime and sitting down to a hot meal in a cosy kitchen.
One that I have never tired of is the Moosewood cauliflower cheese soup. When I make it for supper my kids ask for seconds and you have to scrape the bottom of the pot for a single serving of leftovers.
Cauliflower cheese soup is creamy (but no cream or milk) and so flavourful that you hardly need to add seasoning.
Cauliflower cheese soup is easy soup to make as well. You just pile all of the veggies in the pot, add some water, put the lid on and bring it to a boil. No careful chopping. No browning or caramelizing. No hovering. Effortless.
And no need to make grilled cheese sandwiches since the soup has a good amount of cheese. A nice crusty bread or homemade biscuits are just right served alongside.
Adapted from Moosewood Cookbook. The original recipe calls for ¾ cup of milk and 2 cups (packed) of grated cheddar rather than parmesan. Suit yourself but I prefer this less rich version.
Effortless Cauliflower Cheese Soup
Course: Soups, Vegetarian
This is a creamy soup without the cream and so flavourful that you hardly need to add seasoning.
Ingredients
1-2 potatoes, peeled and roughly chopped

1 head of cauliflower, roughly chopped, including the core (set aside 2 cups of florets)

1 medium carrot, peeled and chopped

1 1/2 cups chopped onion

3 cloves garlic, peeled

1/2 tsp sea salt

4 cups water

½ cup grated parmesan

1 tsp dill (dried), or a sprig of dill weed.

Freshly ground pepper
Directions
Place vegetables, garlic, salt and water in a Dutch oven, put the lid on and bring to a boil.
Simmer until vegetables are tender.
With an immersion blender puree soup. (Or puree in a blender or food processor).
Stir in the parmesan and dill (if using). Season to taste with salt and pepper.
 Steam the cauliflower florets until just tender.
Ladle soup into bowls and top with steamed cauliflower, a little fresh parsley or chives and a sprinkling of parmesan.