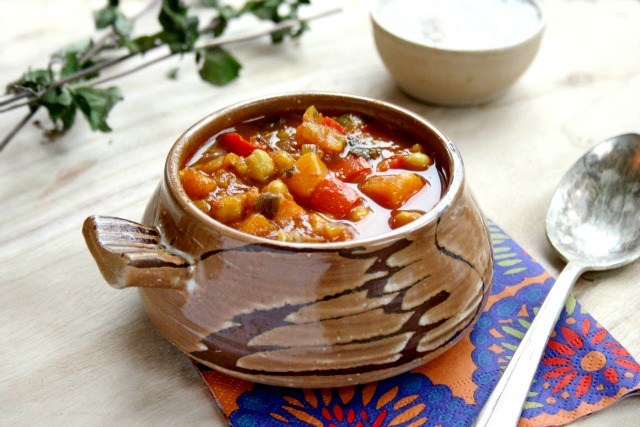 Sweet potato chickpea soup – full of chick peas, sweet potatoes, red pepper and a little turmeric for colour, this soup has a gorgeous golden hue that is very cheery on a late fall day.
Sweet potato chickpea soup is the third soup recipe that I have shared from the always-dependable Moosewood Cookbook and it likely won't be the last. The cookbook has been the source of my family's best soup recipes since my mom first discovered it decades ago.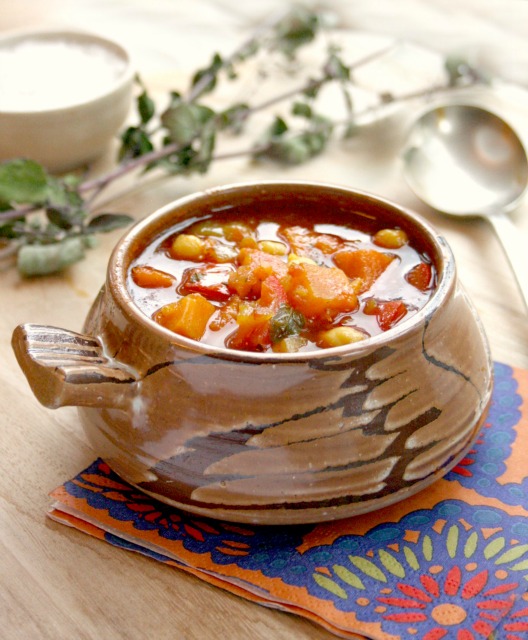 In the Moosewood Cookbook the recipe is called Gypsy Soup. It's a recipe that makes me think of a song off the radio we used to sing when I was very little. (We'd sing it to my sister Mary Jo, amazed that her name was in the lyrics.) I can still remember how it goes which is a mixed blessing since a little Tony Orlando and Dawn goes a long way… "Say, has anybody seen my Sweet Gypsy Rose. Here's a picture when she was my Sweet Mary Jo. Now she's got rings on her fingers and bells on her toes. Say, has anybody seen my Sweet Gypsy Rose."
Green tips:
Conventionally grown bell peppers can have a high pesticide residue so look for organic when possible. If you can't find organic be sure to scrub your peppers well with eco-friendly dish detergent to remove at least some of the surface pesticides.

Learn more here.
Sweet Potato Chickpea Soup
Ingredients:
2 Tbsp olive oil
2 cups diced onion
Pinch of red pepper flakes
2 cups peeled, diced sweet potatoes
¼ tsp smoked paprika (optional)
1 ½ cups cooked chick peas
Instructions:
In a large, heavy pot, warm the oil over medium heat until it shimmers.

Add the onion, chilies, garlic, celery and sweet potatoes. Saute for 5 minutes.

Add the salt and saute another 5 minutes, stirring often.

Add the spices, oregano or basil and water. Stir and simmer for 15 minutes, covered.

Add crushed tomatoes, bell pepper and chick peas. Cover and simmer until the vegetables are tender.

Taste and adjust the seasoning.