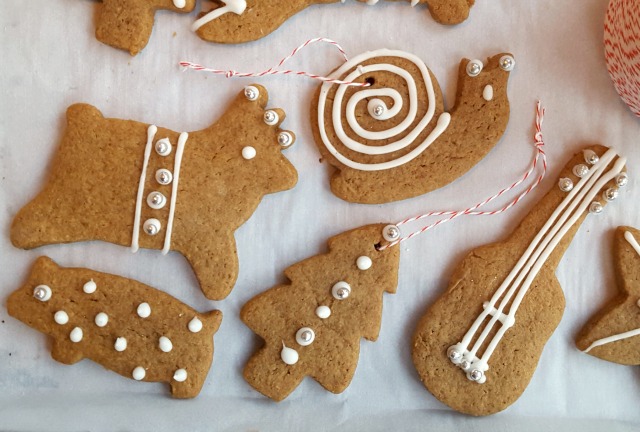 Christmas traditions – decorating Whole Wheat Gingerbread Cut Out Cookies to hang on the tree.
When I was little, I often misheard song lyrics, which I suppose isn't that uncommon. It happened with all sorts of songs but there was a favourite childhood Christmas carol that I didn't get quite right. When I was very small and practically vibrating with the anticipation of Christmas, I sang the chorus to Here Comes Santa Claus like this:
"Here comes Santa Claus, here comes Santa Claus, right down Santa Claus's leg…"
To this day, whenever I hear that song, I remember my childhood vision of a tiny Santa sliding down the leg of a giant Santa seated in a big cushy armchair.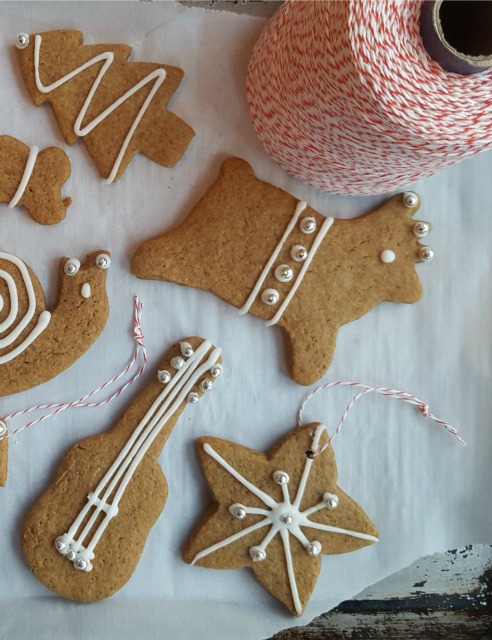 Getting in the Christmas spirit…
Something else that fed the anticipation of Christmas in our house was decorating Christmas cookies.
Mom would make dozens of cookies in all sorts of holiday shapes and we'd spend an entire afternoon painting them with tinted frosting. Some would go on cookie plates and others would be hung on the tree.

This whole wheat whole wheat version has been my go-to gingerbread cookie recipe for 25 years. It came from a shop in Maine that sold cookie cutters packaged with spice blends. The addition of whole wheat flour gives these cookies a more wholesome flavour.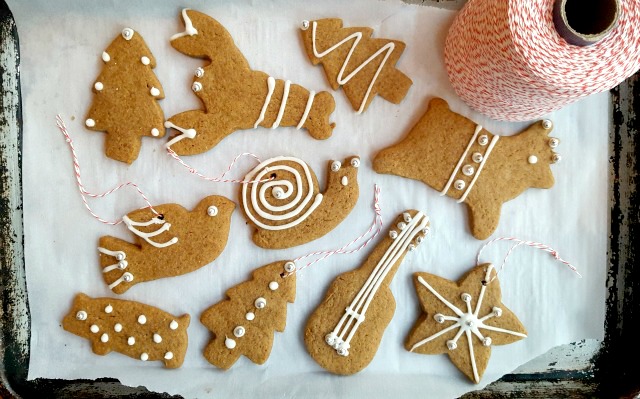 Whole wheat gingerbread cookies are pretty and delicious on their own but it's fun to decorate them to hand on the tree or give as gifts. I use a very basic icing — a no recipe kind of recipe. The rough quantities are below. Remember you can always add more icing sugar or milk to get the right consistency for decorating. 
Simple icing:
2 Tbsp. soft butter
1 cup icing sugar
1-2 Tbsp. milk or coconut milk
1/2 tsp. vanilla
In a medium bowl mash the butter and add about half of the icing sugar. Mash them together a bit then add 1 Tbsp. of milk and the vanilla. Mix well then add remaining icing sugar and more milk until you get the right consistency.
Whole Wheat Gingerbread Cut Out Cookies
Course: Cookies
An easy dough to work with for a delicious cookie. Whole wheat flour adds a lovely flavour.
Ingredients
1 cup butter, softened

1 cup sugar

1 egg, beaten

½ cup fancy molasses

2 Tbsp lemon juice

3 cups flour

1 cup whole wheat flour

1 tsp baking soda

½ tsp salt

2 tsp ginger

2 tsp cinnamon

½ tsp allspice

1/4 tsp nutmeg

¼ tsp cloves
Directions
In a large bowl beat butter and sugar until creamy.
Beat in egg and molasses. Add lemon juice.
Sift together dry ingredients and gradually add to creamed mixture.
When flour mixture is fully incorporated gather dough into a ball, cut in half and pat into two disks.
Chill for one hour.
To bake cookies
Preheat oven to 350 F.
Roll dough on a lightly floured surface ¼" thick and cut into shapes.
Bake on a parchment-lined baking sheet for 8-10 minutes.