Slightly garlicky cauliflower mash is a tasty, low-carb alternative to mashed potatoes. Healthier and much simpler to make this is a recipe that goes with almost everything.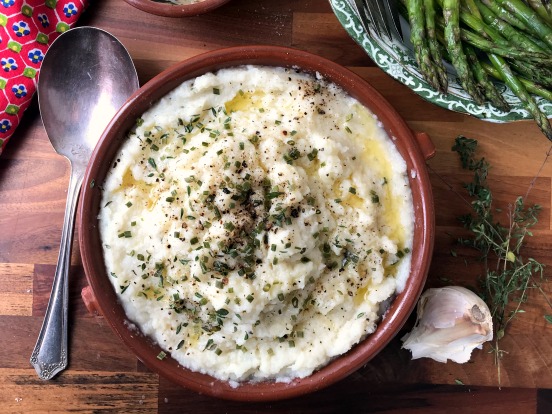 As I type this column I'm just finishing off the last few pieces of my friend Ann's famous brown sugar fudge and thinking about the maple cream dessert I made for last evening's dinner party. I'm not yet tired of all the rich food I enjoyed over the holidays but I know that it's time to move along.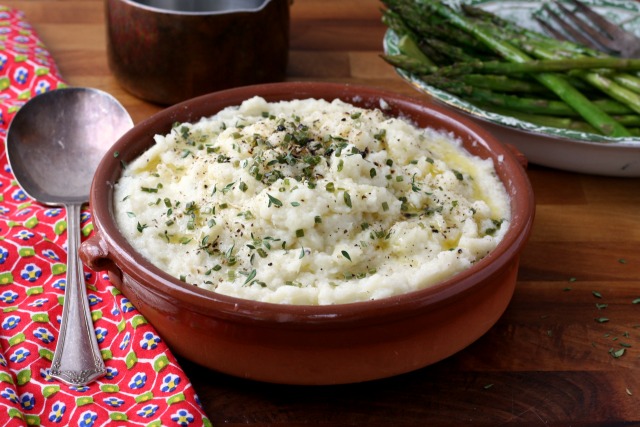 Getting back to simpler food after a December of indulgence isn't exactly a novel idea. When I was a student living overseas my landlady made us nothing but white rice on the day after our final holiday feast and I know that a humble bowl of turkey soup is what many are craving this week.
If you're in search of a new vegetable dish to help you press the reset button, this simple cauliflower mash recipe is just the thing.
It's a tasty low-carb alternative to mashed potatoes. Healthier and much simpler to make this is one of those recipes that can go with most of your weekly meals.
If you don't have a food processor you can use a potato masher or immersion blender (although you may not achieve the same creamy texture).
This is a slight adaptation of a recipe in the cookbook The Whole 30
Easy Cauliflower Mash a Tasty Low-Carb Alternative to Mashed Potatoes
Course: Vegetables
Difficulty: Easy
So simple and delicious. Goes with everything.
Ingredients
1 head of cauliflower, chopped 

2 cloves garlic, minced 

1 bay leaf 

2 cups water 

2 Tbsp. butter 

1 tsp. salt 

¼ tsp. black pepper 

¼ to ½ cup vegetable broth (optional)

1-2 Tbsp. fresh minced herbs (optional) 
Directions
Place the chopped cauliflower, garlic, bay leaf and water in a large pot. 
Bring to a simmer, cover and cook until cauliflower is tender. 
Drain, remove bay leaf, and spoon into a food processor. 
Add butter, salt and pepper and ¼ cup broth (if using) and whir until smooth, adding stock if necessary to get your preferred texture. 
Serve hot.
More Cauliflower Recipes
Cauliflower can be endlessly versatile. Another of my favourite cauliflower recipes is for roasted cauliflower steaks with pumpkin seed romesco sauce. I make cauliflower risotto too (with crispy sage). Have you tried easy cauliflower cheese soup?