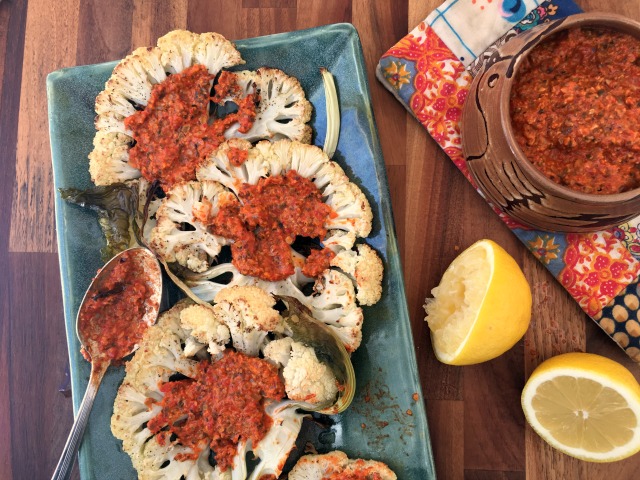 Pumpkin seed Romesco sauce served on roasted cauliflower steaks makes vegetables the star of the meal. 
We were a mostly vegetarian household when our kids were little so the only meat they had was at other people's homes, and at family gatherings. We didn't take them to fast food restaurants either. Of course it meant meat and fast food always held great appeal for our kids.
When my son was little he'd save the Arby's flyers that came with the newspaper and use them as bookmarks. Sometimes his room was littered with them. My daughter would eat plate-sized slices of ham at family gatherings.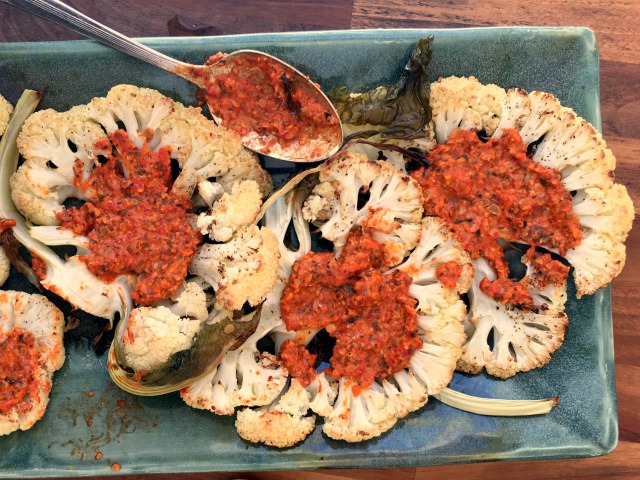 To this day the only steaks they get at home are of the cauliflower kind. They'll eat cauliflower no matter what way it's served, but this method of roasting cauliflower is a family favourite. It's tasty, goes with anything and looks great on the plate.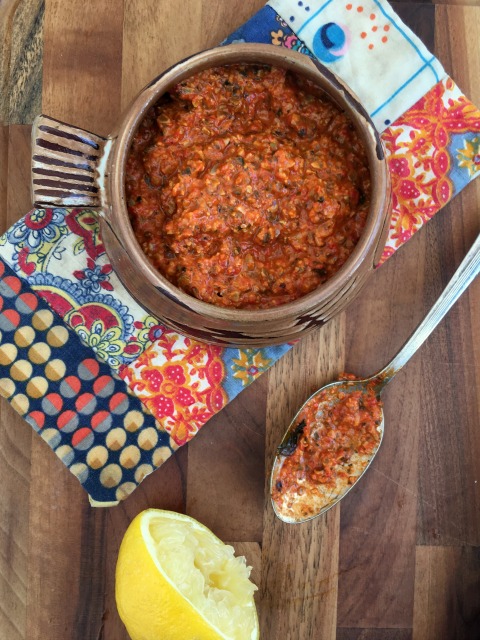 Romesco sauce is usually made with almonds or hazelnuts but I make a pumpkin seed version. It pairs perfectly with cauliflower steaks and can also be used as a dip. The paprika, red pepper and cider vinegar tame the bitter taste of pumpkin seeds and a little bit of good quality olive oil helps to give this sauce a lovely texture.
I never get tired of roasted cauliflower. When cooked for a long time it gets almost creamy and acquires a  delicious caramelized flavour that is slightly sweet.
Pumpkin Seed Romesco Sauce with Cauliflower "Steaks"
Course: Appetizers, Vegan, Vegetarian
Difficulty: Easy
Ingredients
Pumpkin Seed Romesco Sauce

½ cup plus 2 Tbsp. toasted pumpkin seeds 

1 clove garlic 

2 roasted red peppers, rinsed and chopped 

2 Tbsp. cider vinegar 

1 Tbsp. tomato paste 

1 tsp. oregano 

Sea salt & pepper to taste 

½ tsp. paprika 

1/8 tsp. smoked paprika (optional) 

¼ cup good olive oil 

Roasted Cauliflower

One whole cauliflower (large)

Olive oil to coat

Salt & pepper
Directions
Romesco Sauce
Toss pumpkin seeds and garlic in a food processor and whirr for a few seconds. 
Add remaining ingredients and pulse until almost smooth. 
Roasted Cauliflower
Place an untrimmed cauliflower on a cutting board, stem down. 
Slice the cauliflower top down into ½-inch slabs. (Your first couple and last couple of slices will end up florets.) 
Place on an oiled baking sheet and drizzle with olive oil. Season with salt & pepper and squeeze over the juice of ½ a lemon (optional). 
Bake at 375 F until tender and nicely browned (about 20 minutes). 
Remove cauliflower to a platter and spoon over the Romesco sauce. Serve extra Romesco on the side.