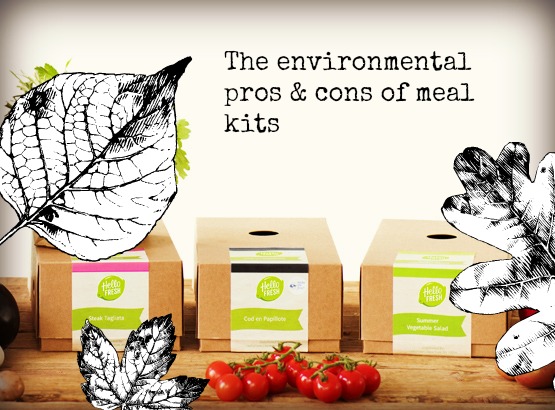 The environmental pros and cons of meal kits
It's a weeknight dream for people too rushed to cook from scratch or who find it a challenge to get to the grocery store: meal kits, including everything you need to prepare a fresh, healthy dinner with proportioned and pre-chopped ingredients, delivered to your door.
Meal kits do seems like a great idea for people who want to eat good, healthy food but need the whole process of preparing a meal streamlined. The meal kit industry continues to evolve, and much of the flux is related to the environmental impact of meal kit delivery services.
The biggest environmental challenge with meal kits is all of the packaging. There are delivery boxes, ice packs and individual packaging for most of the ingredients. Much of it is recyclable or compostable but there are no stats on exactly how much of that packaging gets tossed in the garbage. That's no different than the usual challenge of food packaging waste, but the per-meal waste ratio is arguably higher for meal kits than average home cooking. There is also a carbon footprint associated with the delivery itself that is greater than regular trips to the grocery store. And the meal kits don't replace grocery shopping for the food you need for the rest of the week.
There are many environmental pros for meal kit services.
Meal kits are healthier than eating restaurant fare several times a week and the process – step by step instructions and pre portioned ingredients – actually ends up teaching non cooks how to cook which, in the long run, is one of the greatest environmental benefits of the meal kits. Recipes are included for each meal so you can prepare your favourites on your own, too.
Because you use everything that comes in the kit you don't have leftover bits of this and that spoiling in your fridge and getting tossed. The portion sizes are generous so there is a good chance you'll have leftovers that need to be eaten.
If meal kits are a replacement for packaged and processed food, that's a step in the right direction, for your health and the good of the planet.
If you have groceries that spoil in your fridge, meal kits may help you stay more organized. (But the kits can still get lost in your fridge if you don't plan to make your meals within a week.)
The meal kit company I have seen around our region is Hello Fresh. They are mindful of the environmental impact of their service and I'm sure want to eliminate reasons for subscribers to cancel. As such, their packaging is clearly marked with recycling instructions. The delivery boxes and other paper packaging are made from post-consumer recycled fibers and are recyclable. Ice packs are filled with a non-toxic salt solution that can be drained in the sink (using hot water to dissolve the gel). The plastic casing is #4 plastic and is not recyclable in our region (Only #1, #2, & #5 are recyclable.) As well, the company also offers antibiotic-free meat and local or sustainable fish.
Meal kits may be the solution that works for you or your family. But no matter how you choose to eat you still need to remember that food waste is an enormous environmental challenge and consuming all of the food that you buy should be something to strive for.