This is a true one-bowl cake – quick and easy. Calls for oil instead of butter and doesn't need frosting.
This whole wheat apple cake with chocolate chips makes a delicious snack cake.
This is my son's new favourite snack food. Moist and flavourful, it's the sort of cake that sits somewhere between a muffin and a cake.
Don't get me wrong — it is most definitely a cake.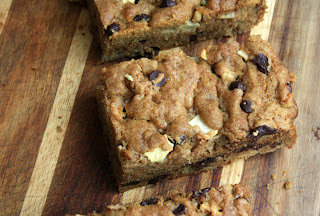 Apple, chocolate chips and walnuts are a great combination. I guess that's why it's so satisfying. So many flavours and textures.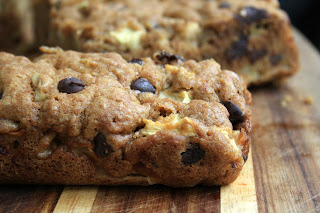 This is a recipe my mom got sometime in the 1970's. It was from Vivian, a woman who used to work at my dad's office. As I recall, Vivian wore stylish denim pant suits and seemed really old (I was about 7). In my experience grandmother types weren't usually trendy so she always stood out to me. So did her apple cake. It was one of the first recipes that I put in my hand-written recipe book. 
I used to take the cake to pot lucks at university because it was easy to make, didn't need frosting and was always a hit. 
Vivian's Apple Cake with chocolate chips
Course: Desserts
Difficulty: Easy
Total time
1
hour
15
minutes
A moist and wholesome cake. Can be made with whole wheat flour. No frosting necessary. Perfect for fall.
Ingredients
¾ cup oil (grapeseed, vegetable or canola)

1 cup sugar

2 large eggs, room temperature

2 tsp. vanilla

2 cups four, spooned in (can use half whole wheat)

1 tsp. baking soda

1 tsp. cinnamon

Pinch of salt

3 cups sliced apples (2-3 apples)

½ cup chopped walnuts

½ cup chocolate chips
Directions
Combine the oil, sugar and eggs. Mix well then add the vanilla.
Sprinkle over the flour, baking soda and salt.
Stir until just combined (dough will be stiff).
Stir in the apples, nuts and chocolate chips.
Spread in a greased 8" x 8" pan. Bake at 325 F for 55-60 minutes, or until a tester comes out clean.