One-pot lemon roasted chicken is easy, flavourful and always moist. Soaking your chicken in a molasses brine before cooking makes it even more delicious.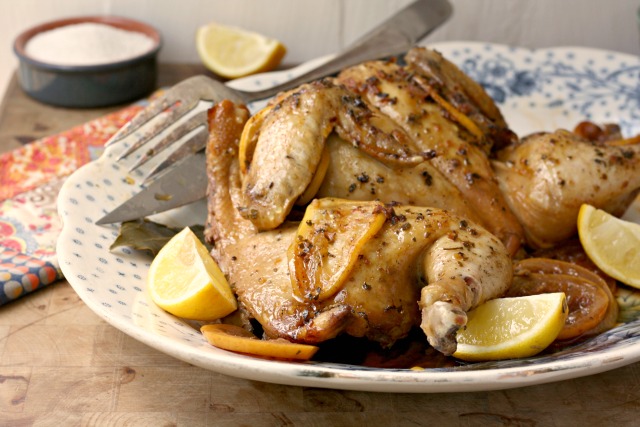 This year I starting cooking like it was spring long before March 20th. I was done with winter and retreating to the kitchen is the best way I know to escape that icy season without getting on a plane.
For me the taste of spring is in the humble lemon. (Given our challenging winter this year, it is no coincidence that this is the third recipe in a row in which lemon is the star.)
The bright flavour of lemon is always cheery and in this recipe the sunny yellow rind becomes an edible part of the dish. It adds terrific flavour, similar to preserved lemon found in sun-baked North African dishes.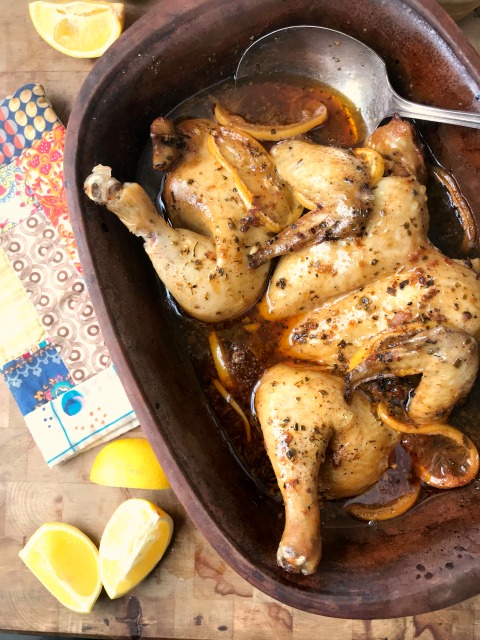 Thin skinned lemons are best for this dish. Before you start cooking, soak your lemon in a bowl of water with half a teaspoon of baking soda for 15 minutes. Rinse before slicing.
I bake my lemon chicken in my mom's old clay baker that was a gift from my dad in the early 1970s. If you don't have a clay baker you can use a heavy Dutch oven with a cover.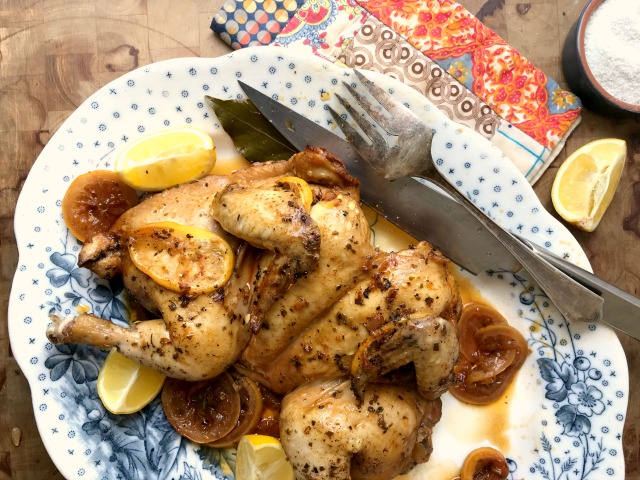 The beauty of this recipe is that your chicken always stays moist. (If you want your chicken to be even more moist, brine it ahead of time — brine recipe at bottom.)
One-Pot Lemon Roasted Chicken Recipe
Ingredients:
One 3-4 lb chicken or chicken pieces*
1 onion, sliced
1 bay leaf
½ cup white wine
2 Tbsp. soya sauce or tamari
1 Tbsp. Worcestershire sauce
2 Tbsp. honey or molasses
2 cloves garlic, minced
2 tsp. dried oregano
Pinch of red pepper flakes
1 tsp. paprika
1 lemon, thinly sliced, seeds removed
Salt & pepper
Instructions:
In a large Dutch oven or heavy covered pot, scatter onions and bay leaf. Lay chicken on top, skin side up.
In a small bowl whisk together wine, tamari, Worcestershire, honey or molasses, minced garlic, oregano, red pepper flakes and paprika. Pour over chicken.
Tuck lemon slices around the chicken pieces, sprinkle with salt & pepper.
Cover and cook at 350 F for 1-1 1/2 hours, until done, basting from time to time.
*If your chicken is whole, slice it open by cutting through to the cavity along the back bone. Flip it over so the skin side is up and press on the breast to flatten the bird.
Molasses Brine for Chicken
8 cups water
¼ cup kosher salt (coarse)
1/3 cup molasses
Dissolve salt and molasses in water, add chicken and refrigerate for 4-24 hours. When ready to prep the above recipe discard the brine and follow instructions.