This lemon glazed gingerbread recipe turns gingerbread into the perfect spring and summer dessert. This is a one-bowl cake that feeds a crowd.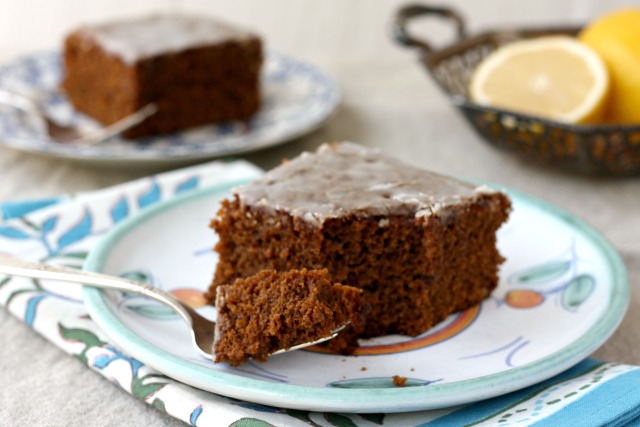 This cake has everything I love about a classic gingerbread. It is beautifully spiced, has a lovely texture and tastes even better after a day or two. Dressing it up with a tart lemon glaze turns it into the perfect spring and summer dessert.
The recipe was given to me a few years ago by a another mom I was volunteering with. She organized a fundraising dinner to help send our kids (almost 40 in total) to the Dominican Republic to build two community centres in tiny rural communities.
About 20 of us each baked this gingerbread for the event – proof that it's delicious, easy and a crowd-pleaser. (In our house we call this Angela's gingerbread – since it came from Angela.)
The recipe makes a 9" x 13" cake so is great for a party.
You can serve it with whipped cream or drizzle it with a lemon glaze (recipe below).
Lemon-Glazed Gingerbread Cake Recipe
Ingredients:
½ cup butter, softened
1 cup sugar
2 eggs, room temperature
1 cup molasses
1 cup boiling water
2 ½ cups flour
2 tsp. cinnamon
2 tsp. ginger
1 tsp. baking soda
¼ tsp. salt
Instructions:
Preheat oven to 350 F and grease a 9" x 13" pan or line it with parchment paper.
In a large bowl beat butter with sugar.
Beat in the eggs one at a time then molasses.
Beat in water.
Sprinkle over the flour, spices, baking soda and salt and beat until smooth.
Pour into prepared pan and bake until a tester comes out with just a few moist crumbs attached, about 45 minutes to an hour.
Let cool in pan on a rack for 10 minutes then turn out. Let cool a few more minutes and drizzle with glaze (if using). Brush glaze over entire cake.
Serve warm or at room temperature
Lemon glaze:
1 ½ cups icing sugar
4 Tbsp. lemon juice
To make lemon glaze, whisk the icing sugar with the lemon juice until smooth.