This quick coconut curry lentil soup makes a satisfying 30-minute meal. Made with red and green lentils.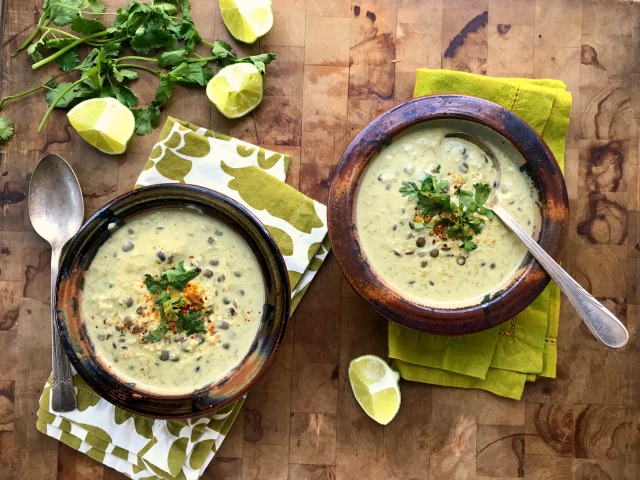 After a good rain, the little brook through our yard becomes a rushing stream. It was always great fun for our kids when they were little. They could race plastic boats down to the woods and from time to time long lost balls and other floating toys would emerge from the neighbourhood drainage pipe into the stream.
November rain has kept the stream high, and the damp, chilly weather has us craving soup. 
This quick coconut curry lentil soup is easy, satisfying and gets terrific texture from coconut milk and red and green lentils. The recipe came from my nephew Bob and his girlfriend Victoria so in our house we call it Victoria's Lentil Soup. One Christmas they packaged it up in large mason jars and gave it as gifts, along with the recipe. Instructions for the gift version are below.
Quick Coconut Curry Lentil Soup Recipe
Ingredients:
1 Tbsp. oil
¼ cup minced onion
2-3 cloves of garlic, minced
1 Tbsp. curry powder
Pinch of red pepper flakes
2/3 cup dried red lentils
2/3 cup dried green lentils
4 cups vegetable broth
1 can coconut milk
2 Tbsp. chopped cilantro
Instructions: 
In a large pot over medium heat, saute onion and garlic in the oil for about a minute.
Stir in the curry powder and red pepper flakes.
Add the lentils and broth. Stir to combine.
Bring to a simmer and cook until lentils are tender, about 25 minutes.
Stir in coconut milk.* Taste and adjust seasoning (add salt, if necessary).
 Serve with a squeeze of lime and a sprinkle of cilantro.
*Once the coconut milk has been added take care not to let it come to a boil.
Lentil Soup in a Jar
Combine ingredients in a mason jar and fasten the recipe to the lid.
Ingredients:
2/3 cup dried red lentils
2/3 cup dried green lentils
1 Tbsp. curry powder
1 Tbsp. dried chopped onions
1 Tbsp. dried minced garlic
2 vegetable bouillon cubes
1 chili pepper or a pinch of red pepper flakes
Instructions: 
Combine jar ingredients in a large pot with four cups of water. Bring to a simmer and cook until lentils are tender. Add one can of coconut milk,, stir to combine and serve. (Don't let it come to a boil with the coconut milk.)