Make these easy Maple Molasses Candied Walnuts in 30 minutes. Serve with drinks or dessert, or package them up to give as gifts.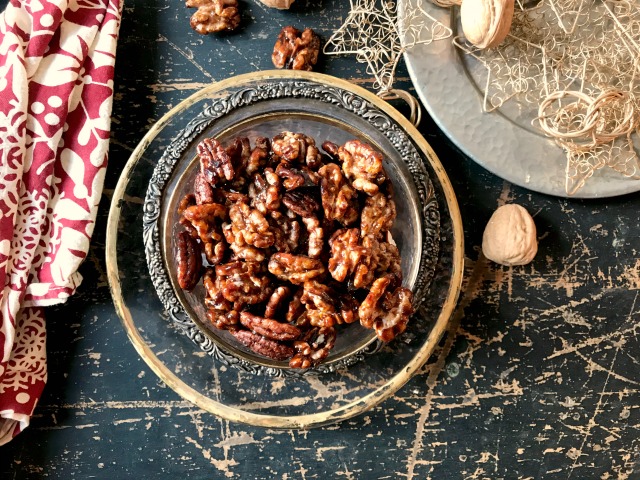 When I was growing up, during the holidays we always had a big bowl of nuts in the living room. They were mixed nuts and still in the shell. Although I usually preferred the candy bowls, filled with barley toys, ribbon candy and chicken bones, I'd sometimes park myself in front of the nut bowl, cracker in hand, and work my way through the walnuts. They were the easiest for me to crack open so I developed a taste for them at a young age. (I also loved the earthy taste and texture of the Brazil nuts but they were too hard to open.)
I don't often buy nuts still in the shell for Christmas, but I always make some sort of candied nuts.
My dad loved candied nuts so we always had them around the house at Christmas. Making maple molasses candied walnuts reminds me of my dad and that's why it's one of my favourite recipes to share.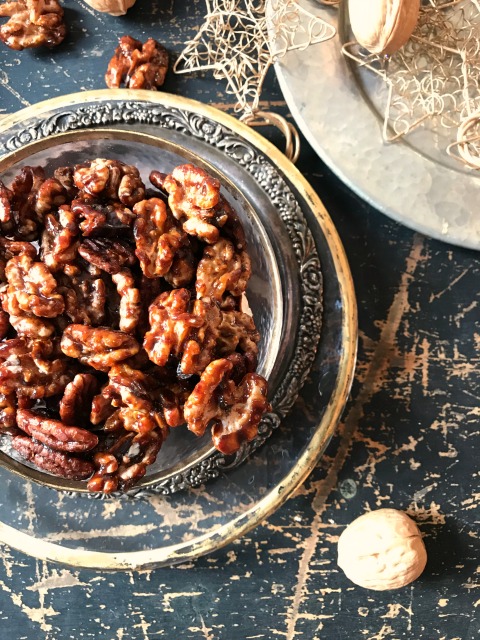 Walnuts are perfect for this recipe because the sweet, spicy syrup catches in all of the grooves of the nuts. The recipe is delicious with pecans too. Almonds are another option.
This easy recipe is ready in under 30 minutes. Maple molasses candied walnuts make a great nibble with drinks and make a lovely hostess gift too.
Maple Molasses Candied Walnuts Recipe
Ingredients:
2 Tbsp. pure maple syrup
3 Tbsp. fancy molasses
1 Tbsp. olive oil
½ tsp. cinnamon
Pinch of cayenne (optional)
½ tsp kosher salt
2 cups walnut halves, pecans or almonds* (raw)
Instructions:
Preheat oven to 325˚F. Line a cookie sheet with parchment paper. Have a second sheet of parchment nearby.
Combine all ingredients except nuts in a medium pot. Stir to combine then stir in nuts.
Warm over medium heat until mixture is very runny (don't boil) for about two minutes, stirring constantly.
Pour mixture onto prepared pan and spread into a single layer.
Bake for 10 minutes. Remove from oven, stir and spread into a single layer. Bake until deep golden brown, about 8-12 minutes more. Watch carefully so they don't overcook.
Remove from oven, stir again and then spread on the reserved sheet of parchment to cool.
(Moving the pecans to a clean sheet of parchment will keep them looking tidy.)
*If you use almonds they will take a little longer to cook