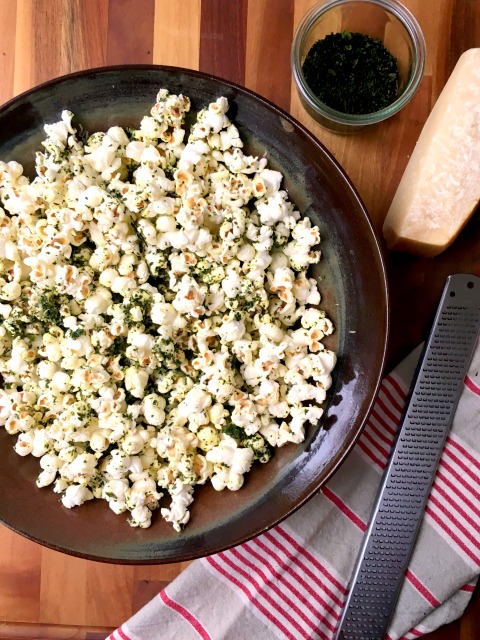 The kale dust is also good sprinkled over salad, on eggs, mac and cheese and just about anything else you might be serving for supper.

I have had inconsistent success feeding other people's children.
Years ago a friend of my son's got in the habit of asking what was for supper before he would accept an invitation to dine with us. (He was once very spooked by kale galette in our kitchen.) A friend of my daughter's would ask "Is there a bear on the jar?" when she was offered a peanut butter sandwich.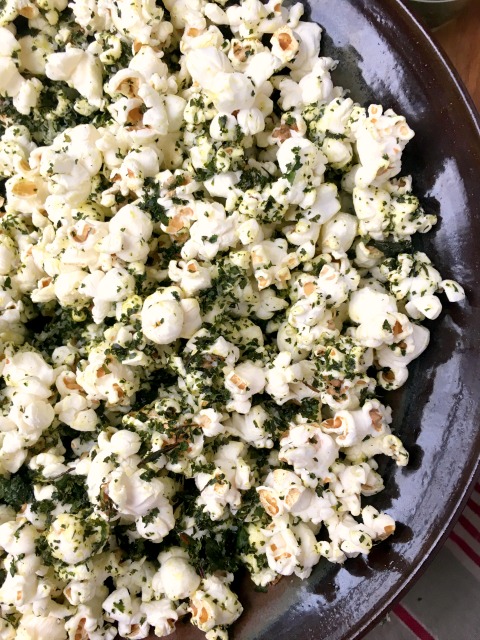 When my kids were at Rothesay Nursery School and were able to bring a special snack to share with the class on their "special day" my daughter chose Veggie Booty — a popcorn-like snack coated in kale, broccoli, spinach, carrot, and cabbage powder. It was always a special treat at home but few in her class would go near it. (To this day it's one of my kids' favourite treats and a regular purchase when we're on vacation in Maine.)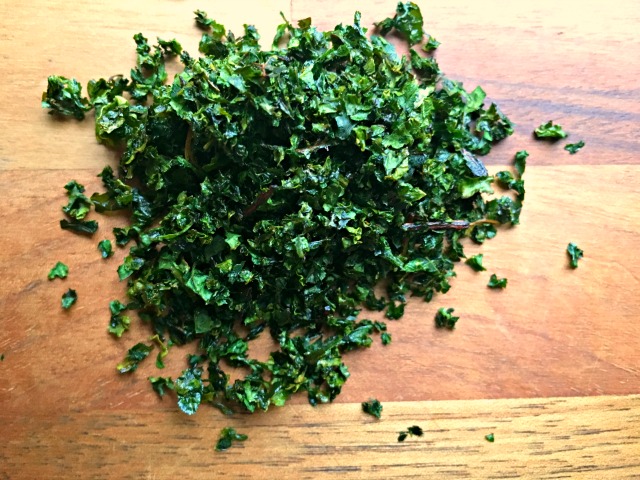 I was reminded of the Veggie Booty episode when I read the header notes for this recipe in the new Smitten Kitchen "Every Day"cookbook. According to Deb Perleman, the author, her Kale-Dusted Pecorino Popcorn is "shockingly popular among the preschooler set…"
This is the Smitten Kitchen recipe, only with Parmesan because that's what I always have on hand. Any kind of hard, sharp cheese will do. If you prefer melted butter with your popcorn, drizzle a little over the popped kernels before adding the kale and Parmesan.
Kale-Dusted Parmesan Popcorn
Ingredients:
One bunch of kale
Sea salt
1/3 cup popcorn kernels
2 Tbsp olive oil
½ to 2/3 cup finely grated parmesan
Sea salt & pepper, to taste
Instructions:
Preheat oven to 300 F
Cut the kale off its tough stems. Brush a large sided cookie sheet or two with olive oil and arrange the kale in a single layer. Sprinkle over some salt. Bake for 12- 20 minutes, or until the kale is crisp. (Take care not burn it.) Curly kale takes longer to crisp.
Cool and then whir in a food processor until it's confetti-sized.
Pop the popcorn kernels, either stovetop or in a hot air popper. Immediately toss with the olive oil, kale dust and parmesan. Season with a little salt and pepper.