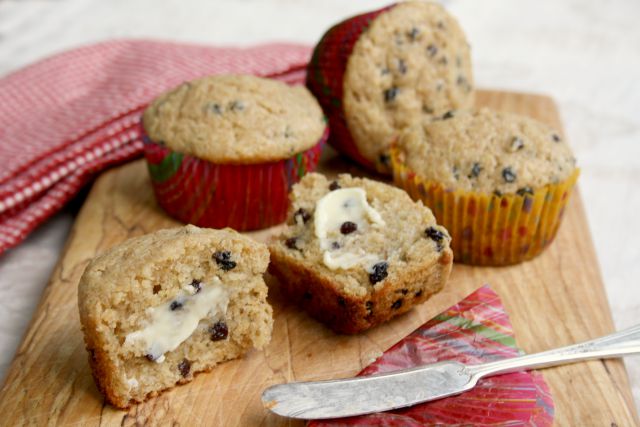 These wheat germ muffins are moist and rich tasting, perfect with a cup of tea.
Wheat Germ Muffins with Currants make perfect little tea cakes.
When Princess Diana visited Canada in 1983 she and Prince Charles were scheduled to do a walkabout in my little town of Rothesay. I was in grade 10 and as thrilled as anyone at the chance to see Princess Diana in person so my friends and I dressed up and joined the crowds at what was then called Rothesay Collegiate School, to await their arrival.
I have no idea how I made it through the throngs of people lining their walking route to be positioned right at the edge of the rope barrier (I must have been following my friend Ann). So there I was, and Princess Diana came right over to me. She commented on my height and said I had large feet like her and how difficult it was to find stylish flats when you wore size 10 shoes. And then she was off to talk about everyday things with someone else.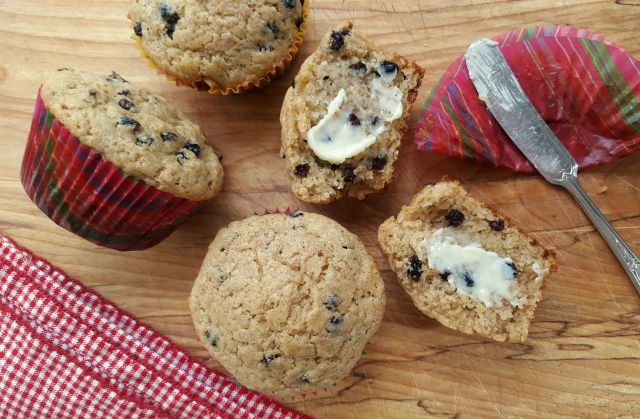 This muffin recipe is from the Laura Secord Canadian Cookbook, a stellar collection of recipes from across the country that was compiled in 1967. As the story goes, these muffins were served to Queen Elizabeth at tea time each day as she toured the country in 1957. The original recipe called for 1 cup of raisins, cut in half. If you'd like to spend the afternoon cutting raisins in half, feel free. I use currants instead.
**I received a note from a reader who said the muffins can also be finished with a honey butter glaze. A pretty and delicious addition to the recipe!
Mom gave this recipe two check marks in her book.
The Queen's Muffins – Wheat Germ Muffins with Currants
Make 14-16 muffins
Ingredients:
10 Tbsp. butter, softened (1/2 cup + 2 Tbsp.)

¾ cup currants or raisins
Instructions:
Preheat the oven to 375 F

Combine the flour, baking powder and salt.

In another bowl beat the butter with the sugar. Add the eggs one at a time. Stir in the flour mixture in three additions, alternating with the milk. Stir lightly to combine after each addition. Add wheat germ and currant and stir gently to combine.

Fill prepared muffin tins and bake for 15-20 minutes.