Maple Syrup Oatmeal Scones are rich and buttery.
These rich, buttery maple syrup scones are a spring treat. Made with pure maple syrup and then drizzled with a maple syrup glaze they're just the thing for a lazy weekend morning (or snow day).
This is an old recipe my my mom clipped out of a magazine sometime in the 1990s. I don't make them often so they're always such a treat.
The maple flavour shines in these scones. Use the darkest maple syrup you can find for more flavour.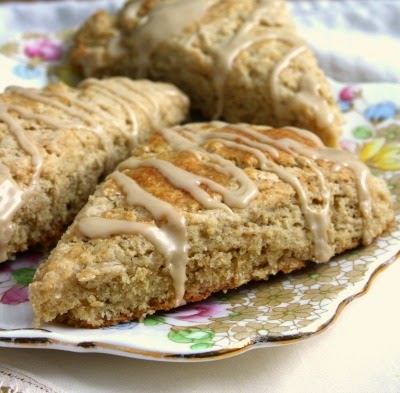 When you cut the dough into wedges the recipe makes eight generous scones. If you prefer smaller servings just cut them into rounds, as you would biscuits.
The recipe calls for one tablespoon of sugar in addition to one quarter cup maple syrup. The sugar can be omitted if you prefer to make these refined sugar-free. The glaze is a lovely treat (and very pretty) but can be omitted too. 
Another favourite is this recipe for
graham scones
. I grew up with this recipe featured in the Laura Secord Canadian Cookbook.
Maple Syrup Oatmeal Scones
Course: Breads
These rich, buttery scones are made with pure maple syrup and drizzled with a maple syrup glaze.
Ingredients
1 ¼ cups flour

1 cup whole wheat or spelt flour

½ cup old fashioned rolled oats

1 Tbsp. baking powder

1 Tbsp. sugar

½ tsp. salt

1 cup cold butter

¼ cup buttermilk

¼ cup pure maple syrup

2 eggs

1 egg + 1 tsp. milk (for an egg wash)

Icing

1/2 cup icing sugar

2 Tbsp. maple syrup
Directions
Preheat oven to 400 F and line a baking sheet with parchment paper.
In a large bowl combine the flour, oats, baking powder, sugar and salt.
Cut in the butter with a pastry blender or two knives until mixture resembles coarse meal (butter in pea-sized pieces or smaller). This can also be done in a food processor.
In another bowl beat the eggs. Whisk in the buttermilk and maple syrup.
Add the wet ingredients to the dry ingredients and mix until just incorporated.
Scrape onto a lightly floured surface and knead gently 8-10 times until the dough just comes together into a ball.
Roll or pat into a circle that's about ¾" thick. Cut into 8 wedges. (To make smaller scones, use a round cookie cutter.)
Transfer scones to prepared baking sheet spaced about an inch apart. Brush with egg wash and bake for 18-22 minutes. (Don't over bake.)
Cool slightly before icing.
Combine icing sugar and maple syrup. Drizzle from a spoon over warm scones.