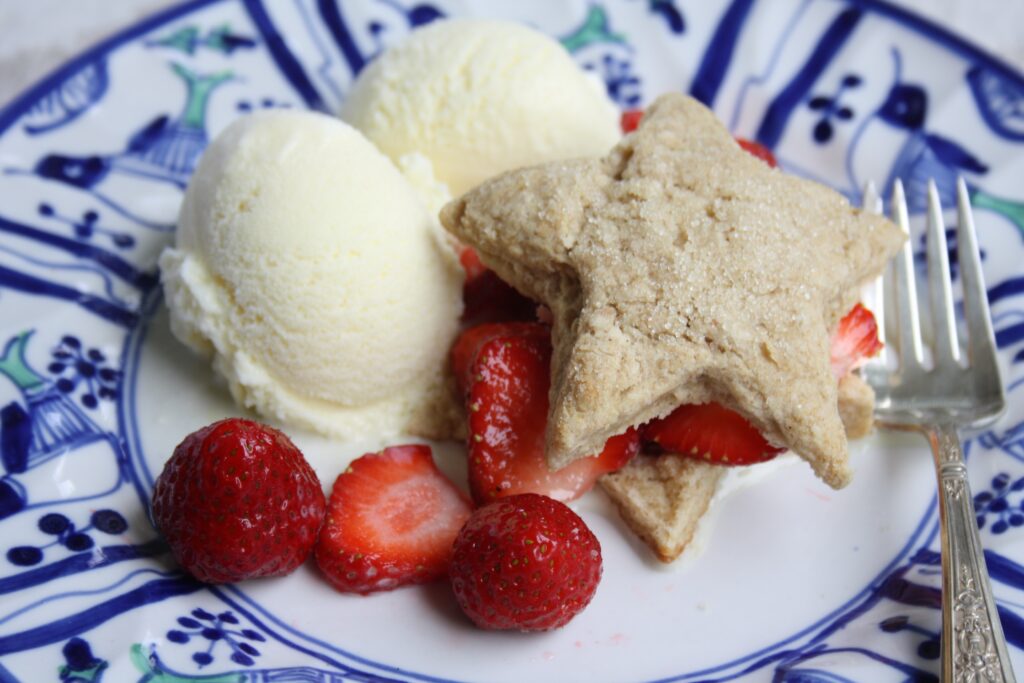 The best whole wheat biscuits
Our family recipe for biscuits was passed down from my great grandmother but how far back it really goes we don't know. It's one of those recipes that has just always been around. Mom said her mom wasn't one to make homemade bread but there were always biscuits.
My grandmother used a glass to cut her biscuits into rounds and she sprinkled them with sugar before baking when they were to be used with shortcake. Sometimes she used a small shortbread cookie cutter to make mini biscuits that she'd fill with egg salad for one-bite sandwiches. And sometimes they'd eat them hot out of the oven with butter and molasses.
I grew up eating homemade biscuits with soup or made into sandwiches. When we'd stay at school for lunch sometimes mom would make mini biscuits with the same cutter her mom used, and fill them with slabs of cheddar or folded rounds of salami.
These whole wheat biscuits are a flaky biscuit. It's a little unusual in that the recipe calls for 8 tsp of baking powder (that's not a typo). 
You can adapt the recipe to sweet or savoury dishes by playing with the amount of sugar. For shortcake use 3-4 Tbsp. of sugar. If I'm making them to serve with soup I add 1 Tbsp. of sugar. The recipe works well with all sorts of flours too (whole wheat, spelt, whole white, kamut or conventional white flour.)
Tips for flaky biscuits:
The key to the flakiness of these whole wheat biscuits is to not work the dough too much (little pebbles of hard butter are good), roll out the dough gently, don't twist the cutter as you're pushing it through the dough and don't pat your biscuits down (something I taught my kids as they learned to make these at my side).
Whole wheat biscuits and strawberry shortcake
Course: Breads, Desserts
Difficulty: Easy
Ingredients
3 ½ cups flour (whole wheat or whole white)

2-4 Tbsp sugar

1 tsp salt

8 tsp baking powder

1 cup butter, very cold and cut into pieces

1 1/3 cups milk, soured with 1 Tbsp. apple cider vinegar
Directions
Combine the flour, sugar, salt and baking powder in a bowl. Cut in the butter with a pastry blender or two knives until it's pea-sized.
Make a well in the center and pour in the milk. Stir gently with a fork until the dough just comes together (there will still be flour in the bottom of the bowl).
Scrape the dough onto a lightly-floured counter – leftover flour and all – and knead until it just comes together (no more than 10 times). Roll out gently until it's about an inch thick.
Cut into desired shapes.
Arrange on a parchment-lined cookie sheet and bake at 400 F for 12-15 minutes.
Cinnamon bun variation:
I also use the dough to make cinnamon buns. I roll it into a rectangle (still about an inch thick), sprinkle it with about ¾ cup of brown sugar (a moist demerara is best) and 1-2 Tbsp. of cinnamon. Roll up and cut into one-inch slices. Bake cut-side down on a parchment-lined cookie sheet for about 20 minutes.