Pumpkin & Molasses Oatmeal Cookies are thick, soft textured, wholesome and filling.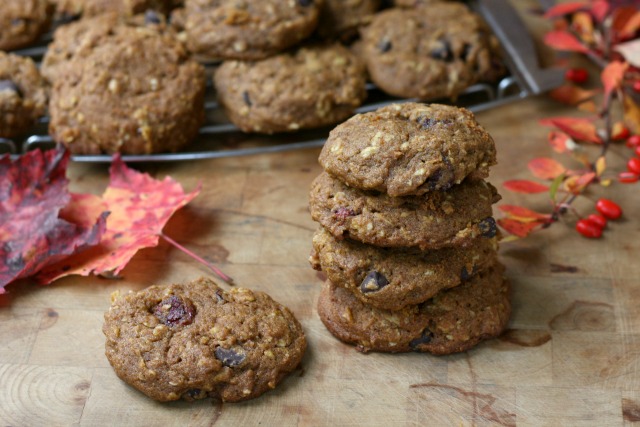 One of the things that I love most about baking is how it makes the house smell. Every house has its own scent and I prefer mine to smell like something good to eat. It's the best way I know to make your home feel welcoming – especially if you share what you cook with people who come to visit.
I grew up in a house that always smelled of cooking, especially baking. My most vivid scent memories are of fall and the smell of spiced cookies, cakes and muffins. There is a warmth to the scent of baking spices and on a chilly fall day, stepping into a house filled with the aroma of freshly baked spice cake and cookies is like standing by the fire in winter.
That's how these pumpkin oatmeal cookies will make your house smell. They have a comforting texture and are wholesome and filling.
Tip: You can substitute pumpkin pie spice for the spices called for in this recipe (a total of 3 1/2 tsp.) As well, this recipe can handle additional add-ins. Try pumpkin seeds, sunflower seeds, chopped dates, almonds or walnuts.
Pumpkin & Molasses Oatmeal Cookies
Course: Cookies
Difficulty: Easy
Total time
1
hour
10
minutes
These cookies have everything you love about a thick oatmeal cookie, with a little softness from the pumpkin and loads of flavour.
Ingredients
2 1/4 cups all-purpose flour, spooned in

1 1/2 cups old-fashioned rolled oats

1 tsp. baking soda

2 tsp. cinnamon

1 tsp. ginger

¼ tsp. nutmeg

¼ tsp. allspice

1/2 tsp. salt

1/2 cup butter, melted

1/2 cup oil

1/4 cup molasses

3/4 cup brown sugar

1/2 cup sugar

1 egg yolk

3/4 cup pumpkin puree (not pumpkin pie filling)

1 teaspoon vanilla

¾ cup chocolate chips

¾ cup dried cranberries
Directions
Preheat oven to 350 F.
Whisk flour, rolled oats, baking soda, spices, and salt.
In another bowl whisk the melted butter and oil with molasses, brown sugar, and white sugar.
Stir in the egg yolk then the pumpkin and vanilla. Mix well.
Add pumpkin mixture to bowl of dry ingredients and stir to combine.
Stir in chocolate chips and cranberries. (Dough will be thick and sticky.)
Drop dough by the spoonful (2 Tbsp.) or using a medium cookie scoop, onto a parchment-lined baking sheet.
Bake for about 15 minutes or until cookies feel set in the centre.
This is a soft cookie. If you'd like them a bit firmer bake them longer.
If you prefer a crunchy oatmeal cookies that's buttery and has no extras you'll love my mom's recipe for classic oatcakes