Marcella Hazan's tomato sauce is a simple and satisfying tomato sauce recipe made with just four ingredients. Richly flavoured.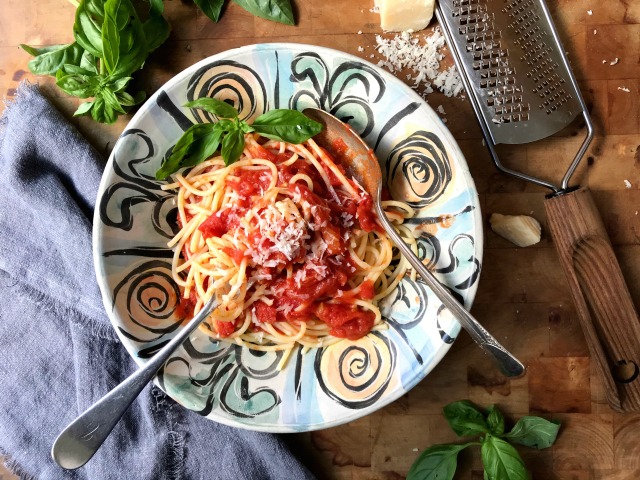 This is my mom's famous tomato sauce, or rather the famous tomato sauce that she introduced us to. Brightly flavoured and rich tasting it's one of my favourite recipes and just about the simplest spaghetti sauce you'll ever make.
The recipe is a classic by legendary Italian cookbook author,
Marcella Hazan
. It's all over the Internet but mom introduced the recipe to us long before I ever stumbled upon it online.
Marcella Hazan's tomato sauce is unique
The sauce is quirky in a couple of ways. It includes butter and the onion is simply cut in half and simmered in the sauce, then removed before serving. There is no garlic.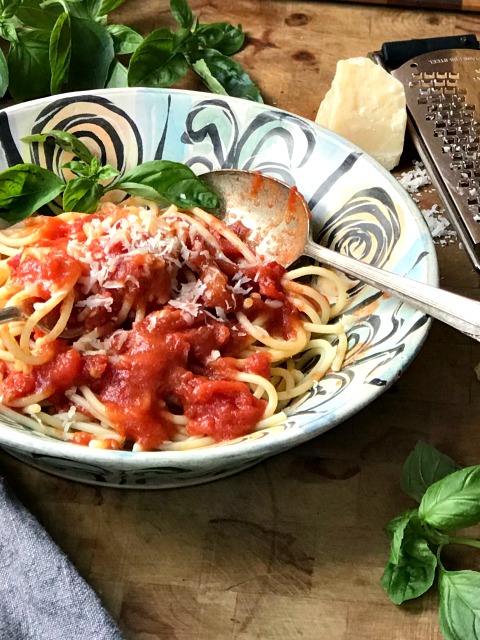 Tips
Mom's tip: The sauce is exquisite on its own but lends itself to additions as well. Mom likes to add a little garlic and a generous pinch of fennel seeds near the end of cooking.
Don't toss the onion! As the onion cooks in the buttery sauce it develops a wonderful flavour so deserves to be devoured. You can chop the cooked onion and add it back into the sauce, serve it alongside your plate of pasta (my favourite) or save it for another recipe.
This recipe makes enough sauce for a pound of pasta.
Marcella Hazan's Tomato Sauce Recipe from Mom
Course: Vegetarian, Main Course, Sauce
Cuisine: Italian
Difficulty: Easy
A simple and satisfying tomato sauce recipe made with just four ingredients.
Ingredients
One 28-oz can of tomatoes, including juices

5 Tbsp. butter

1 medium yellow onion, peeled and cut in half

 1 ½ tsp. salt
Directions
Instructions:
Chop the tomatoes and toss them in a pot along with their juices. Add butter, onion and salt and bring to a simmer over medium heat. Cook for 30-45 minutes, stirring from time to time.
Remove onion before serving.
You can make this recipe with fresh tomatoes (skin them first). Or, you can try my recipe for roasted tomato sauce, a lovely way to cook with field-ripened tomatoes.