Crispy Parmesan Oven-Fried Chicken is my go-to main dish when I'm feeding a crowd, especially during the summer. It's so easy to cook a big batch and the chicken is good served hot or cold.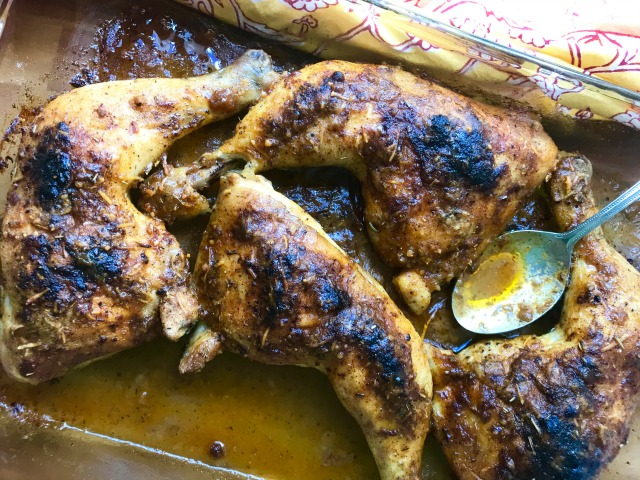 Some of my favourite childhood memories are of day trips we'd take as a family, heading off to New River Beach, Deer Island, Campobello or Mactaquac. Mom would pack huge picnics and we'd all pile in the car to head off on an adventure. Of course I had no idea at the time just what effort it took to feed nine people out of a cooler.
More often than not our picnic included
oven-fried chicken
, a specialty of mom's that I have shared previously on this blog.
This Crispy Parmesan oven-fried Chicken reminds me of mom's old recipe and is even easier to make. It yields a wonderful crispy seasoned skin and always-moist chicken. I like to call it faux-fried.
Crispy Parmesan Oven-Fried Chicken is easy to prep, always moist and flavourful.
The key to getting the crispy coating is to baste the chicken from time to time with pan juices. Be sure to coat each piece well before the chicken is finished cooking.
Crispy Parmesan Oven-Fried Chicken
Course: Chicken & Turkey
Difficulty: Easy
Crispy Parmesan Oven-Fried Chicken – easy to prep, always moist and flavourful.
Ingredients
8 chicken legs (or a combination of breasts and legs)

1-2 Tbsp. olive oil

1/3 cup grated Parmesan cheese

½ cup all-purpose flour

1 ½ tsp. coarse salt

1 ½ tsp. dried herbes de Provence or oregano

1 ½ tsp. paprika

1/8 tsp. cayenne
Directions
Lay the chicken pieces in a single layer in a very large baking dish (use two dishes if necessary)
Drizzle with olive oil and rub it into the chicken skin.
In a bowl whisk together the remaining ingredients.
Sprinkle flour mixture over the chicken pieces, coating them well.
Bake at 425 F for about 45 min, until chicken is cooked through and juices run clear, basting at least twice with pan juices.