A savoury panko topping adds a crispy texture to salmon & trout fillets. Great with cod & haddock too.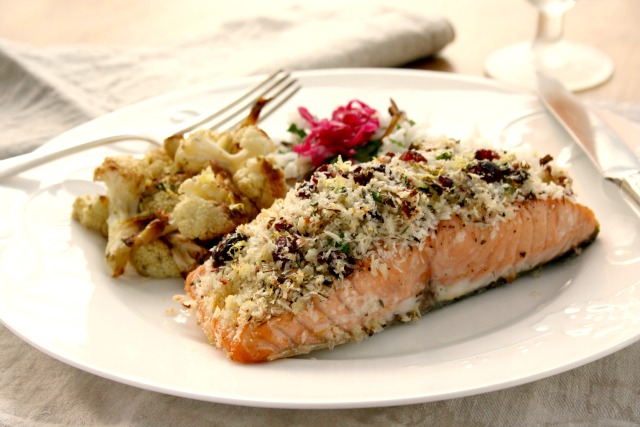 It's a good recipe for people who aren't wild about fish since the crust adds lots of flavor and a crispy texture.
Just so you know…
The recipe for salmon with cranberry thyme crust really has nothing to do with the story that follows. However, I'm in the habit of saving family lore and this is where I do it. If the antics of my big New Brunswick family don't interest you, feel free to jump directly to the recipe.
The story…
When my twin brother and his wife were first married they lived in a very small town in Maine. We visit often and have always had catalog and online orders shipped to their place, to bring home on the next visit down. Years ago I placed an order from a Victoria's Secret catalog and had it shipped to my brother, knowing that I'd be down for a visit within a month or two.
The thing about small towns is that everyone knows everyone, which is charming, except when you're picking up a package from the post office, addressed to you, (or in this case, my brother) from Victoria's Secret.
My parcel – a pair of very ordinary pajamas – left much room for speculation on the part of the postmistress and everyone else who worked in the post office and possibly their extended families and Friday night drinking buddies.
This was back in the glory days of catalogs so of course after the package was delivered, the catalogs began to arrive. Every couple of months, addressed to my brother.
Long after his catalogs stopped arriving I came across this recipe for baked salmon in a 2002 Bon Appetit magazine and adapted it to suit my tastes. It's a good recipe for people who aren't wild about fish since the crust adds lots of flavor and a crispy texture.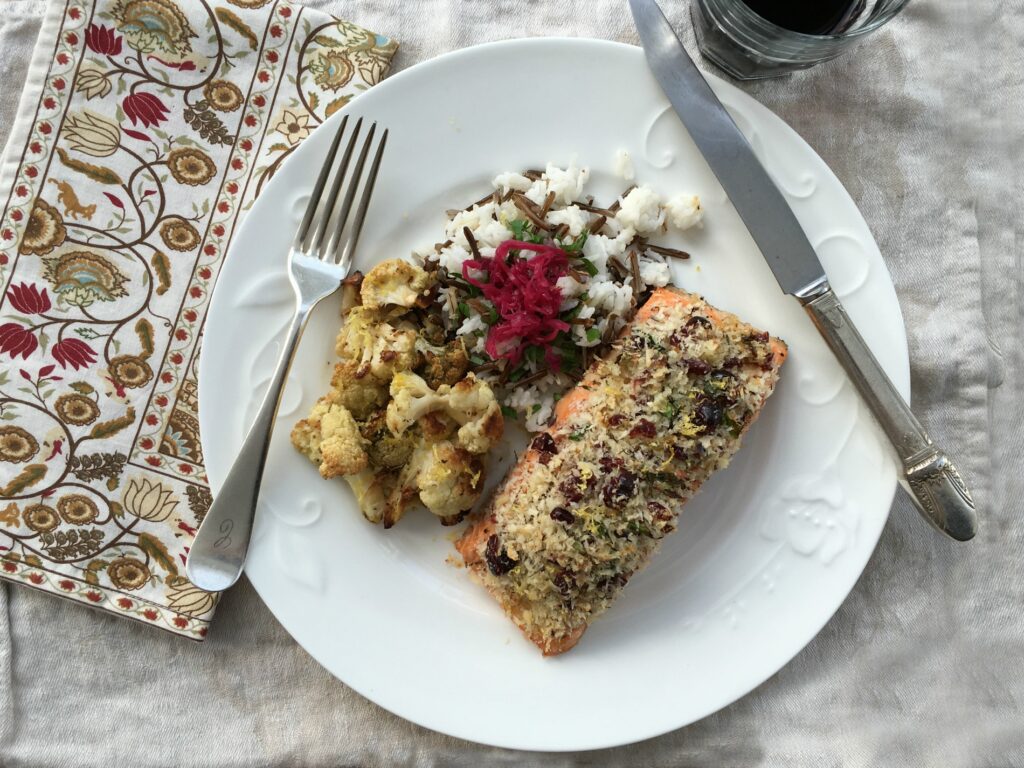 More about the recipe…
Sometimes I make this salmon with cranberry thyme crust using rainbow trout (often less fatty than farmed salmon). To change it up I'll add a tsp. of herbes de Provence to the breadcrumb mixture, in place of half of the thyme.
I love salmon served with braised red cabbage or this lovely festive pomegranate and feta salad.
Green tips: If you're buying wild Pacific salmon look for a sustainability certification. Here's more info on finding sustainable fish & seafood.
Baked Salmon with Cranberry Thyme Crust
Course: Fish and Seafood
Difficulty: Easy
A good recipe for people who aren't wild about fish since the crust adds lots of flavor and a crispy texture. Very pretty on a plate.
Ingredients
4 salmon or trout fillets

3 Tbsp. butter, melted (or olive oil)

½ cup diced onion

1 small clove of garlic, minced

1 cup panko or fresh breadcrumbs

¼ cup dried cranberries, chopped

1/3 cup chopped green onion (green parts only) or chives

2 Tbsp. chopped fresh thyme or 1 tsp. dried

2 tsp. grated lemon zest 
Directions
Preheat oven to 375 F. Oil a baking sheet or line it with parchment paper.
Place fish on pan, skin side down and season with salt u0026 pepper.
Heat 1 Tbsp. of butter or oil in a sauté pan. When it starts to shimmer add the diced onion and sauté until translucent.
Add the garlic and sauté one minute longer.
Remove from heat and stir in one Tbsp. of butter or oil, panko, cranberries, green onion, thyme and lemon zest. Combine well.
Divide mixture among the fish fillets and press to adhere. Drizzle with remaining butter.
Bake until topping is golden and fish is just cooked.