Roasted winter squash is delicious paired with black beans, spinach and sharp cheese in these vegetable filled black bean quesadillas.
A vegetarian quesadilla with substance
As a child I couldn't stand squash. Mom always served it mashed and just the thought of it made me gag. I missed dessert every time we had squash for supper because I just couldn't eat it.
What I didn't know at the time is that my brother Erik, who loved mashed squash, had a way around vegetables that he didn't like. He used to slip his shelled peas into a slender drawer in the dining room table.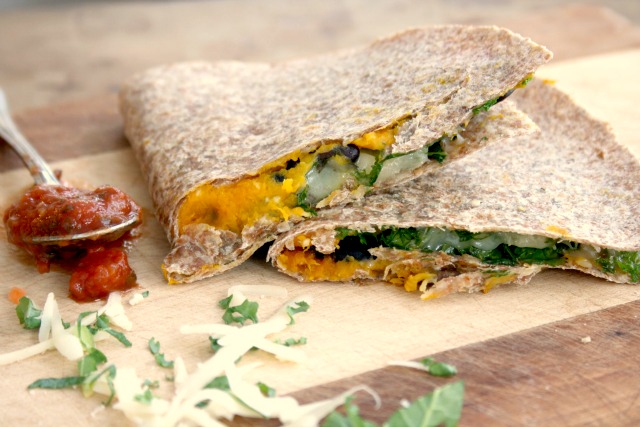 I have since developed a love of squash and we eat it often through the fall and winter. My son's favourite way to eat winter squash is in black bean quesadillas. In this recipe the squash is mixed with black beans, cheese and a few greens, and served with salsa and guacamole. The recipe was inspired by sweet potato quesadillas that my sister once made.
Some Tips:
Bake your squash ahead of time and freeze the flesh. Then all you need to do is thaw it before getting your fillings going.
Using a pizza wheel, cut each tortilla into thirds. Serve with all of your favourite Mexican sides (salsa, guacamole) and carrot-cabbage salad.
Try replacing the squash with sweet potato (baked or boiled).
Try feta or mild chevre (soft goat's cheese) instead of cheddar or mozzarella.
Use pita bread instead of tortilla shells. Cut them in half, stuff, brush with oil (mixed with a bit of chili powder) and bake at 350 'til the filling is warm and the cheese has melted.
Green Tip:
Soak and boil black beans from dried for more flavour and texture, and to reduce your BPA exposure (from the lining of most cans).
It's easy — just soak 1-2 cups of dried beans overnight in plenty of cold water. Drain, add fresh water to cover by a couple of inches. Bring to a boil and simmer 'til cooked to your liking (45 min or so).
Freeze extras so you always have them on hand so you can avoid canned beans.
Roasted Squash Black Bean Quesadillas
Course: Vegetarian
Roasted winter squash is delicious paired with black beans, spinach and sharp cheese in these vegetable filled black bean quesadillas.
Ingredients
½ buttercup squash (can use any winter squash)

2 cloves garlic

1 onion, thinly sliced

1 Tbsp. olive oil

1 cup cooked black beans

Handful of fresh spinach, chopped

¼ cup fresh cilantro (optional)

2 cups grated cheese

6-8 8" tortillas shells
Directions
Cut squash in half, scoop out the seeds and bake cut-side down at 400 F until soft. Scrape out the flesh.  
In a frypan over medium heat sauté onion and garlic in oil until onion is soft.  Add cooked squash and sauté until warmed through (another 5 minutes or so.) Stir in black beans and season with sea salt and pepper. Remove from heat. 
Spread ¼ cup of the squash mixture on one half of the tortilla. Sprinkle over a bit of cheese, then spinach. Finish with a bit more cheese and the cilantro if using. Fold the empty side over the layered side, press gently. Repeat with remaining tortillas. 
Cook in a dry fry pan over medium heat until lightly browned and cheese has melted.