Garlic baked zucchini is my favourite way to eat this summer staple. When zucchini is baked for a long time with garlic and onions it gets almost creamy.
When I was in high school my mom used to make this dish for me. It was a great veggie side for fall and something that I could easily make on my own if I had to work the evening shift at our local inn. (Through high school I worked at Shadow Lawn Inn, a lovely Victorian home that also happened to be our next door neighbour. It was an ideal job. The owners, Willie and Jean Ward, were the best bosses a newbie like me could ever hope to have plus I could run out the door five minutes before my shift and be on time.)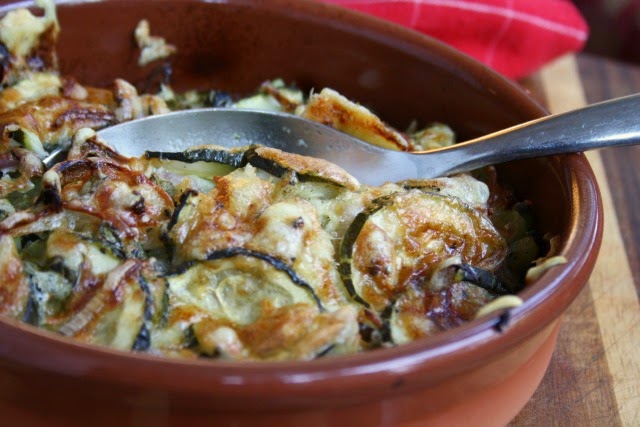 This baked zucchini recipe is my favourite way to eat zucchini. When it's baked for a long time with garlic and onions the zucchini takes on a bit of a floral flavour and the texture, as it breaks down, is almost creamy. Topped with cheese that gets brown and bubbly, it's as lovely as it is delicious. So simple to make.
I like to cover it with foil for the majority of the baking time to help speed things along. I uncover it at the end so the cheese will brown.
The proportions are approximate and the recipe can be scaled up or down. A shallow baking dish is best rather than a deep casserole dish. The deeper the dish the longer it will take to bake.
We go through a lot of zucchini each week since it's so versatile. Roasted zucchini and corn is another favourite recipe, especially in summer. 
Garlic Baked Zucchini with Cheese and Red Onion
Course: Vegetables
Difficulty: Easy
Total time
1
hour
10
minutes
Ingredients
1 small onion, sliced thinly

2 medium zucchinis, cut in half lengthwise and cut into half moons

1-2 cloves of garlic, pressed

1/4 cup fresh herbs, chopped

1/4 tsp. salt and a generous sprinkling of black pepper

About 1/2 cut shredded cheese (I prefer extra old cheddar)
Directions
Combine all ingredients except cheese in a bowl and toss.
Spill into a lightly oiled baking dish.
Sprinkle with cheese.
Cover tightly with foil.
Bake at 375 F for 45 minutes then remove the foil and cook until bubbly and cheese is nicely browned.
Serve hot.