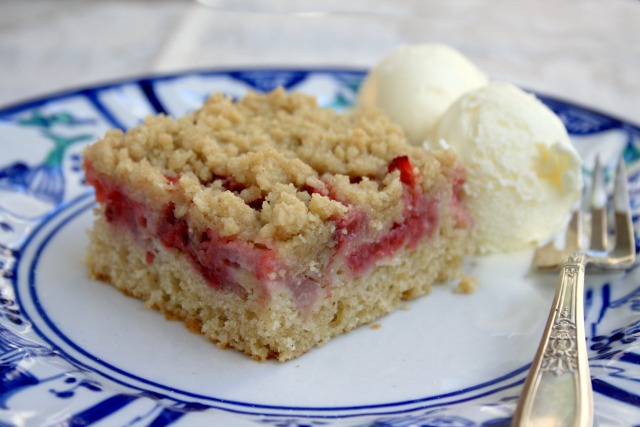 Baked strawberry shortcake is an old-fashioned one-bowl cake with strawberries baked into the batter, and topped with a buttery crumble.

Strawberry picking was an early summer ritual when I was growing up. We'd pile in the car and off to Jemseg we'd go, legs sticking to the hot vinyl car seats. Under the hot sun and pestered by horse flies we'd all pull our weight picking quart after quart of strawberries. It was a bit like a two-for-one deal with us younger kids since I'm sure we'd alternate belly, basket, belly, basket, as we picked. Mom said we'd be berry juice head to toe by the time we were finished. As a toddler I was told I'd have to leave the field because I was eating too many berries.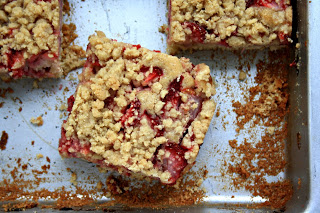 An easy and delicious summer dessert.
There's nothing like a sun-warmed strawberry, but strawberry shortcake is a special treat too. My sister-in-law's mom, Carlene, brought this recipe for baked strawberry shortcake to one of our family gatherings and it was a big hit. It's delicious, easy, and can be made with any kind of berry or summer fruit.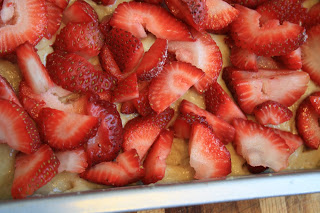 Sprinkle the berries on top of the cake batter.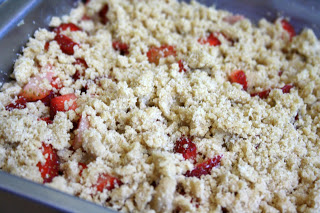 Sprinkle the crumb topping over the berries, and bake.
Baked Strawberry Shortcake with Crumb Topping
Course: Desserts
Baked strawberry shortcake with crumb topping is easy, delicious, and can be made with any kind of berry or summer fruit.
Ingredients
1 cup flour (I use stone ground whole white four)

½ cup sugar

2 tsp. baking powder

½ tsp. salt

1 large egg, room temperature

2 Tbsp. melted butter

½ cup milk

2 ½ cups chopped strawberries

Crumb Mixture

½ cup flour

¼ cup sugar

¼ cup soft butter
Directions
Grease a 9" square pan or line with parchment paper.
In a medium bowl beat together the first seven ingredients until smooth. Spread in prepared pan. Sprinkle over the chopped strawberries.
In a small bowl, combine the crumb ingredients (flour, sugar and butter). Sprinkle on top of the strawberries.
Bake at 350 F for 35-40 minutes.
Serve warm or at room temperature with whipped cream or ice cream.